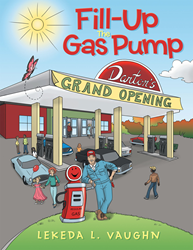 Manhattan, IL (PRWEB) September 20, 2016
Complete with illustrations and written by Lekeda L. Vaughn, "Fill-Up The Gas Pump" is a children's story that introduces preschool-aged kids to the power of faith and belief in God, particularly in times of trouble. When Mr. McFriendly's Gas Station is threatened with the prospect of going out of business, the faith of its owner Mr. McFriendly and his gas pump named Fill-Up is put to the test. In the end, they both learn that God works in mysterious ways, especially for those who believe and trust in him.
"Even as an adult, it can be difficult to maintain your faith and trust God when faced with life's hardships," Vaughn said. "My goal with 'Fill-Up the Gas Pump' is to introduce the faith-based principles to children and let them know God will help them persevere in any situation."
Through the struggles of Mr. McFriendly and Fill-Up, children will learn the significance of God's guidance. Vaughn has crafted a test-of-faith story that her young readers will both learn from and love.
"Fill-Up the Gas Pump"
By Lekeda L. Vaughn
ISBN: 978-1-5127-3339-6 (softcover), 978-1-5127-3338-9 (e-book)
Available in softcover, e-book
Available on Amazon, Barnes & Noble and WestBow Press
About the author
Lekeda L. Vaughn's life work has been inspired by her parents' dedication to education, a passion she instilled in her daughter and two granddaughters. Born and raised in the suburbs of Chicago, Vaughn remains in Blue Island, Illinois. today.
Review Copies & Interview Requests:
LAVIDGE - Phoenix
Satara Williams
480-998-2600 x 586
swilliams(at)lavidge(dot)com
General Inquiries:
LAVIDGE - Phoenix
Jacquelyn Brazzale
480-998-2600 x 569
jbrazzale(at)lavidge(dot)com