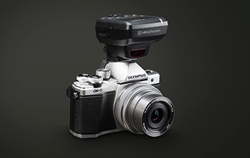 North White Plains, NY (PRWEB) September 20, 2016
Since the launch of the EL-Skyport Plus HS for Canon, Nikon and Sony, the most advanced EL-Skyport ever is now available to Olympus users.
This new Skyport Remote will give Olympus users the ability to control and visualize power settings for all their compatible Elinchrom lights, while providing them the capability to shoot at speeds of up to 1/8000s in Hi-Sync mode.
Visual Feedback Interface
The Large LCD display of the EL-Skyport HS features two-way control via a visual feedback interface that lets photographers see the exact power of up to 10 compatible Elinchrom lights in their setup, right on the transmitter. Users can control the modelling lamp and power of each flash unit directly from the EL-Skyport transmitter, which instantly shows the updated settings. This provides an incredible system for every light in their setup, right from the camera.
Hi-Sync Opens up the World of Flash Photography
Elinchrom Hi-Sync technology lets the user go beyond the X-Sync of their camera. Photographers can simply switch to Hi-Sync mode and access sync speeds up to 1/8000s to freeze motion, overpower the sun, darken backgrounds or use a wider aperture. The ODS (Over Drive Sync) enables users to fine tune the EL-Skyport Plus HS transmitter's trigger signal to optimize exposure at high shutter speeds whilst gaining up to 2 more f-stops of light.
Even More
The EL-Skyport HS has 20 frequency channels that can be used for either Normal or Speed mode. The transmitter attaches easily and securely to the hotshoe with its quick-lock mechanism, and is powered by 2x AA batteries. Users can also enjoy a range of up to 656ft (200m) outdoors, and up to 196ft (60m) indoors.
Continued Commitment to Quality
Providing photographers with tools to enhance their shooting experience, while also showing how Elinchrom is looking firmly ahead to the future, the EL-Skyport HS represents a seamless extension of the EL-Skyport family. Since it is also compatible with the three previous generations of Elinchrom flash units - those using the EL-Skyport Transceiver RX module for Style RX, Digital RX, and Ranger RX systems, and those with integrated EL-Skyport modules for the BRX, D-Lite RX, ELC Pro HD, and ELB series.
Other camera systems are currently being evaluated for future release.
Visit Elinchrom at Photokina: Hall 4.1, Stall I-010 - I-018
About Elinchrom: Since 1962, Elinchrom has been producing the world's most portable studio flash, drawing from a heritage of more than 50 years of innovation. Based in Renens, on the shores of Lake Geneva, Switzerland, Elinchrom continues to innovate with a product range that covers every photographer's needs, from compact flash equipment to battery and power pack systems, reflectors, softboxes and other lighting accessories. Elinchrom's lighting equipment is used around the world for both studio and outdoor purposes.
About MAC Group: MAC Group is a sales, marketing, and distribution company dedicated to supplying passionate photographers, videographers, educators and students with the world's finest image-making tools, education and inspiration. MAC Group represents brands across 3 categories: Tripods, Bags and Filters; Lighting and Grip; Photo and Video Accessories. For more information visit http://www.MACgroupUS.com