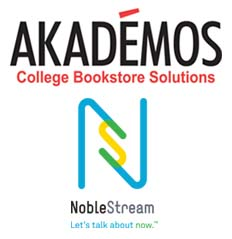 Akademos is a leader in creating value for colleges and universities, and we are delighted to extend their reach by playing an active role in helping faculty drive student and institutional success
Norwalk, CT (PRWEB) September 21, 2016
Akademos, a leading provider of online college bookstore solutions, today announced the launch of a curriculum development service for college faculty that helps institutions improve textbook affordability and educational outcomes.
Akademos Curriculum Services™ provides faculty with personal consultations on new learning models and course material choices that support faculty and student success by improving access to alternative, low-cost options. Through a strategic partnership with education consulting firm NobleStream, faculty at Akademos' 120+ partner institutions can engage with NobleStream course advisors and explore opportunities to use unique courseware from best-in-class educational providers.
Key features include:

Discovery of solution providers in the Akademos Adoption & Analytics Portal with easy "one-click" faculty scheduling for consultations
Custom course pricing options that dramatically reduce costs while providing high-quality digital course materials and relevant, advanced instructional products
One-stop access to NobleStream's suite of innovative educational solution providers including Fulcrum Labs, Lrnr, MindEdge, panOpen and uCertify to help faculty evaluate and select the most appropriate resources for meeting their learning objectives
"We've had a profound impact on reducing students' costs by providing them with more affordable purchase options, including our unique educational marketplace," said Akademos CEO John Squires. "In addition, our advanced faculty software and services dramatically improve the speed and accuracy of course material adoptions. Now, through our partnership with NobleStream, we've added a vital resource to course material discovery that informs faculty about new materials that can improve the classroom experience and significantly lower student costs."
"Akademos is a leader in creating value for colleges and universities, and we are delighted to extend their reach by playing an active role in helping faculty drive student and institutional success," said NobleStream Managing Partner Howard Weiner. "NobleStream's portfolio of educational companies are innovators in instructional design, and they are ideally-matched to provide custom solutions for Akademos partner institutions."
About Akademos
Akademos offers customized, online bookstore services and solutions that support what's most important to institutions - from full-service virtual bookstores to unique partnerships and products supporting on-campus shops. Akademos delivers cost savings on course materials for students while providing administrators and faculty with critical control over the textbook delivery process.
Akademos offers an innovative textbook marketplace, best-in-class eCommerce platform, eLearning solutions, and a unique adoption and analytics portal. The company's comprehensive supply-chain solution and commitment to responsive personal service makes it the choice of leading institutions throughout the country.
Akademos helps institutions deliver the right course materials, at affordable prices, on time. Learn more at http://www.akademos.com.
About NobleStream
NobleStream represents a portfolio of best-in-class educational solutions companies, including multiple Gates Grant recipients. We collaborate with key stakeholders at institutions across the country, working to confront some of today's most critical issues in education. We help assess each institution's unique challenges, connect them to a suite of technology solutions, and then see it through to a successful and seamless implementation. Learn more at http://www.noblestream.com.