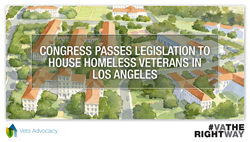 "We are now one step closer to adding an additional 1,200 permanent supportive housing units for Los Angeles' homeless veteran population." - Dan Garcia, Vets Advocacy's Executive Director
Los Angeles, Ca (PRWEB) September 20, 2016
Vets Advocacy issued the following statement after the United States Senate passed H.R. 5936, West Los Angeles Leasing Act of 2016.
"We are extremely grateful that Congress has passed legislation that will put months of hard work into action," said Dan Garcia, Vets Advocacy's Executive Director. "Stakeholders from all over Los Angeles County provided input into the West LA VA draft master plan that can now move into the execution phase with passage of the bill. We are now one step closer to adding an additional 1,200 permanent supportive housing units for Los Angeles' homeless veteran population."
"I applaud House Veteran Affairs Committee Chairman Jeff Miller, Senator Johnny Isackson, Congressman Ted Lieu and Senator Dianne Feinstein's commitment to restoring West LA VA to its historic purpose," added retired Admiral Mike Mullen, former Chairman of the Joint Chiefs of Staff and Vets Advocacy Board Member. "With the President's signature VA will have all the legal tools necessary to turn the tide of veteran homelessness in Los Angeles once and for all."
Last week the House of Representatives passed H.R. 5936, the West Los Angeles Leasing Act of 2016. The bill authorizes the United States Department of Veterans Affairs to use enhanced use lease agreements on the 388 acre West LA VA campus. Enhanced use leases are a necessary component of the West LA VA draft master plan approved by VA Secretary Bob McDonald on January 28, 2016. The plan will add at least 1,200 units to Los Angeles County's estimated shortage of 15,341 permanent supportive housing units. When fully implemented the West LA VA draft master plan could potentially add as many as 4,000 veteran housing units determined by future need assessments.
About Vets Advocacy
Vets Advocacy is a privately funded, non-profit advocacy organization facilitating revitalization of the West Los Angeles Veterans Affairs campus as a condition of the Valentini v Shinseki settlement.
Contact
Anthony Allman
Director of Outreach
Office: 424-348-0083
Email: anthony(at)veteranadvocate(dot)org