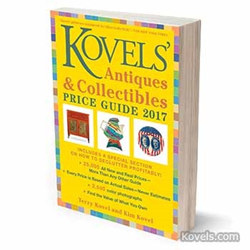 Cleveland, Ohio (PRWEB) September 20, 2016
The 49th edition of America's best-selling antiques price guide is now available. The just-released Kovels' Antiques & Collectibles Price Guide 2017 is the most complete guide on the market, with more than 25,000 all-new and current prices and 2,500 new color photographs. Prices are from actual sales and reviewed for accuracy—no estimates. Kovels' features items sought by collectors in over 700 categories that sold for prices ranging from $2 to $1,066,000, most under $1,000, and not just the highest-priced antiques found in most guides.
Kovels' user-friendly price guide includes everything from advertising to pottery, along with up-to-date information about each category, logos, marks and dates. Also featured are hundreds of expert tips, comments on trends and pricing patterns, and a list of the year's record prices. All this enables collectors to buy, sell and collect with confidence.
Best of all, there's an entirely new addition to this year's book. "How to Declutter Profitably!" helps collectors, their heirs—indeed anyone who has to downsize, relocate or settle an estate—research how and where to sell collections. Much has been written about how to remove clutter from a house, but a collector's declutter is different. This special section explains how to set reasonable rules for sorting, keeping and eliminating, and covers places to sell, what sells high, what is out of style and what sellers need to know about selling online. Also included are lists of auctions, online antiques malls and websites that specialize in particular antiques and collectibles, as well as club publications that accept "wanted" and "for sale" ads.
Here is a peek at some of the fascinating listings in Kovels' 2017 price guide:

Tiffany lamp with an Oriental Poppy shade, c.1910, 15 1/2 inches high, highest price in the book, $1,066,000.
"Pure Fresh Milk" and "Wash & Return Bottles Daily" bottle caps, lowest price in the book, $2 for the pair.
Art Nouveau backbar and front bar with mirrors and stained glass, 195 inches, largest item in the book, $7,260.
Political charm with portraits of Ulysses S Grant & Schuyler Colfax ($347) and a Mickey Mouse stickpin ($115) are the smallest at 1/2 inch.
A door with window and bars from a Chicago police paddy wagon, $840.
Prison door with iron box lock used for solitary confinement at Berks County Prison, $266.
Wooden telephone booth with glass folding doors, $400.
Antiques collectors have turned to the Kovels for their outstanding annual price guide ever since the first guide appeared in 1968. Since then, collecting has become more popular and collectors have become savvier and better informed. With a nationally syndicated newspaper column, newsletter, past TV series and a popular website, Terry Kovel and Kim Kovel are, without a doubt, America's leading popular authorities on antiques and collectibles. Kovels' Antiques & Collectibles Price Guide 2017 is a valuable resource to help collectors make wise decisions and save money. Available now at Kovels.com and local bookstores.
About the Authors:
Terry Kovel is a lifelong collector and expert. She has written more than 100 books on antiques and collectibles. She writes a nationally syndicated newspaper column, a subscription newsletter and a weekly e-newsletter. She lives in Ohio.
Kim Kovel, daughter of Terry and Ralph Kovel, grew up in a house filled with antiques and traveled regularly to shows and flea markets all over the country. Kim lives in Florida in a 1950s house.
About Kovels.com
Kovels.com, created by Terry Kovel and Kim Kovel, provides collectors and researchers with up-to-date and accurate information on antiques and collectibles. The company was founded in 1953 by Terry Kovel and her late husband, Ralph. Since then, Kovels' Antiques has written some of America's most popular books and articles about collecting, including the best-selling Kovels' Antiques and Collectibles Price Guide, now in its 49th edition. The website, Kovels.com, online since 1998, offers more than 1 million free prices, and includes a free weekly email, Kovels Komments. It gives readers a bird's-eye view of the market through the latest news, auction reports, a Marks Dictionary, readers' questions and answers, and much more.
Contact Information:
Liz Lillis
216.752.2252
Pr(at)kovels(dot)com