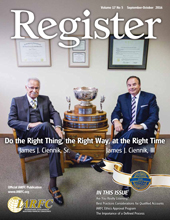 Grandpa Ciennik would say - keep doing the right thing, the right way, at the right time , and continue to live a life of significance.... James J. Ciennik Senior.
Middletown, OH (PRWEB) September 21, 2016
The story of the Cienniks began in 1921 when the eldest of the family James J. Ciennik, started in the insurance, real estate and building business. Son James J. Ciennik Senior joined the firm in 1953 and transitioned it into financial services. Grandson James J. Ciennik III, the last piece of this legacy is a 36-year veteran of the financial services industry. Along the way, their financial planning process evolved from "details in grandpa's head" to a more sophisticated review process that keeps track of client's financial goals.
Keeping the family business going was a hard lesson learned when the elder Ciennik passed away in 1954 with no succession plan in place and no will. "Our experience in this area has been invaluable to us and our business owner clients," related James J. Ciennik III. "It has been quite natural for us to discuss this subject comfortably with them. Many business owners ignore or delay this critical financial objective."
Today both Ciennik Senior and Ciennik III work together as a team to develop long-lasting trusting relationships. "Our clients are loyal and value the services we provide," explains James J. Ciennik Senior. "We tend to pick up additional family members through our relationships with them."
What the Cienniks have learned in business over all these years is perseverance, calmness and the willingness to change. These traits have worked well in their father/son relationship. Working alongside each other, helping others and remaining patient has brought them closer and helped them develop a team. Just as their clients depend on them, they depend on each other.
"Fortunate are the professional families who build a legacy within the financial services," observed Chairman H. Stephen Bailey. "There is no greater satisfaction than working together and building a successful practice within one's own family."
James III sums it up by stating, "My Grandfather would have been proud that through the generations we are still providing our clients financial independence, preserving dignity and creating legacies for their families and businesses as well."
To read the entire article on the Ciennik Financial Group go to http://www.iarfc.org and download the Sept/Oct issue of the Register.