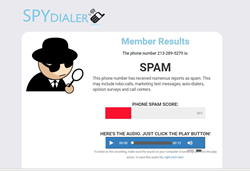 Spy Dialer knows who the phone spammers are before anybody -- including the government agencies who are fighting spam
Beverly Hills, CA (PRWEB) September 22, 2016
According to FCC chairman Tom Wheeler, "Robo-calls are currently the number one complaint the FCC receives from consumers." On August 19, the FCC convened a Robo-call Task Force designed to bring telephone industry and government regulators together to find a solution to the problem. While the Robo-call Task Force is looking for a permanent fix, a website called Spy Dialer has its own solution to minimize the impact of unwanted calls on phone owners. The website has just released the Internet's first lookup of known phone spammers that allows users to check their "missed calls" for free.
"Spy Dialer knows who the phone spammers are before anybody -- including the government agencies who are fighting spam," says private investigator and Spy Dialer CEO Robert Scott. "When we see hundreds of different visitors at our website looking up the same phone number in a short period of time, there's only one possible reason why. They've all been spammed by the same phone number."
According to the Spy Dialer founder, increasing phone spam like robo-calls, opinion surveys and unwanted telemarketing sales pitches have caused many people to simply stop answering calls from unknown callers. The calls typically go to voicemail, where more often than not there is a hang-up, leaving the call receiver wondering if something important was missed. His website offers people a chance to see if it was a known spammer calling.
Scott says there has been a sharp increase in phone spam in recent years, because calls can now be made easily over the Internet, outside of traditional telephone networks. "This makes it easy for black-hat spammers who don't care about the law or the 'Do Not Call' lists, to fire off millions of voice spam messages cheaply and anonymously."
Scott also cautions that this is not just a matter of shady characters operating on the edges of the Internet. There are many legal but unwanted robo-calls as well. For example, election year recorded messages. "It's a fact of life in the swing states like Ohio -- many people simply won't answer their phone unless they recognize the number, because they're getting crushed with political robo-calls," he added.
Both the Federal Communications Commission (FCC) and the Federal Trade Commission (FTC) are charged with controlling phone spam, and both publish the phone numbers of suspected spammers. "These lists are only a little useful at best," says Scott. "They are often out of date before they are published. They're often more about what number was spamming, not what number is spamming."
The FCC task force is scheduled to make its first report before the end of the year. "Most people are hoping to see a real solution to see these unwanted calls so they do not even reach their handsets. But in the meantime, Spy Dialer can provide an answer to people who are not answering calls from unknown numbers to avoid phone spam."