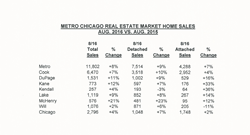 CHICAGO (PRWEB) September 22, 2016
After taking a breather in July, home sales in the seven-county metro Chicago real estate market were on the rise again in August, according to RE/MAX. August home sales totaled 11,802 units, up 8 percent from the 10,900 homes sold in August 2015. Sales had declined 7 percent in July.
The median sales price also increased, reaching $231,806, 5 percent higher than during the prior August. The average time required for a home sold in August to find a buyer was 76 days, 3 days more than in July of this year but the lowest figure for August since 2005 when the housing boom was in full swing.
"The increase in home sales was particularly encouraging in light of the fact that a relative shortage of inventory continues to be an issue for the Chicago area housing market," explained Jack Kreider, executive vice president and regional director of RE/MAX Northern Illinois. "The inventory of homes for sale was 10 percent lower at the end of August than it had been a year earlier. That limited inventory certainly helps explain why homes are selling so quickly right now."
Kreider also noted that the Chicago-area market continued to make progress working through its backlog of distressed homes. In August, distressed sales, which include foreclosures and short sales, represented 12.2 percent of all home sales. Two years earlier, distressed sales accounted for 20.4 percent of the total.
The home sales data used for the RE/MAX analysis is collected by MRED, the regional multiple listing service. It covers detached and attached homes in the Illinois counties of Cook, DuPage, Kane, Kendall, Lake, McHenry and Will. Detached homes are typically stand-alone single-family dwellings. Attached homes include condominium and cooperative apartments along with townhouses.
August home sales rose in all seven metro counties and in Chicago when compared to activity in August 2015. Cook County accounted for 55 percent of all August home sales, and sales there gained 7 percent while the median sales price climbed 3 percent to $235,000. In Chicago, sales rose 4 percent, and the median sales price gained 1 percent.
As for the six suburban counties, sales rose 11 percent in DuPage, 12 percent in Kane, 4 percent in Kendall, 9 percent in Lake, 21 percent in McHenry and 2 percent in Will. The median sales price gained 5 percent in DuPage and Kane, 12 percent in Kendall, 16 percent in McHenry and 13 percent in Will but fell 1 percent in Lake.
Average market time exceeded 80 days only in Lake County where it was 85 days, and Kendall recorded the fastest pace of sales with an average of just 56 days.
Detached Homes
The detached-home segment of the residential market saw a 9 percent increase in sales activity in August, with 7,514 units changing hands. The median sales price for detached homes was $250,601, an increase of 7 percent. Average market time for these homes was 82 days.
McHenry County recorded the largest August increase in detached sales, gaining 23 percent to 481 units. Cook County also performed strongly, gaining 10 percent to 3,518 units, including 1,048 in Chicago, where sales rose 7 percent. As for the other five counties, DuPage gained 9 percent, Lake rose 8 percent, Kane gained 7 percent, Will was up 6 percent, and sales fell 3 percent in Kendall.
Attached Homes
Despite inventory constraints, attached-home sales in the metro area rose 7 percent to 4,288 units in August. The median sales price gained 1 percent to $190,000, and average market time reflected the limited inventory, falling to just 64 days for the seven-county area and dipping to a remarkably low 34 days in Kendall County.
August sales of attached homes were up in six of the seven metro counties, led by Kendall and Kane, which gained 36 and 33 percent respectively. Other gainers were Cook, up 4 percent; DuPage, up 16 percent; Lake, up 14 percent; and McHenry, up 12 percent. Sales fell 11 percent in Will. Chicago attached sales rose 2 percent.
RE/MAX agents consistently rank among the most productive in the industry. In 2015, RE/MAX Northern Illinois agents averaged 18 transaction sides. RE/MAX has been the leader in the northern Illinois real estate market since 1989 and is continually growing. The RE/MAX Northern Illinois network, with headquarters in Elgin, Ill., consists of more than 2,300 sales associates and 106 independently owned and operated RE/MAX offices that provide a full range of residential and commercial brokerage services. Its mobile real estate app, available for download at http://www.illinoisproperty.com, provides comprehensive information about residential and commercial property for sale in the region. The northern Illinois network is part of RE/MAX, a global real estate organization with 104,000+ sales associates in 90+ nations.
####
EDITOR'S NOTE: RE/MAX® is a registered trademark. Please spell in all caps. Thank you. This release is posted at blog.illinoisproperty.com.