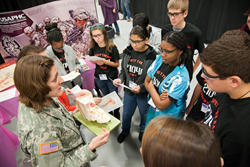 Our focus is to raise awareness and expand the STEM student pipeline.
ABERDEEN PROVING GROUND, Maryland (PRWEB) September 21, 2016
The 2016 Aberdeen Proving Ground STEM Expo will be held here Sept. 28.
During the Expo more than 300 ninth grade students from Cecil, Harford, and Baltimore public schools will have the opportunity to engage in hands-on STEM activities led by U.S. Army scientists and engineers.
"Our focus is to raise awareness and expand the STEM student pipeline," said Jyuji D. Hewitt, Executive Deputy to the Commanding General for the U.S. Army Research, Development and Engineering Command.
"We hope to inspire students and their teachers so that students will pursue STEM subjects early on in their studies and also show them potential STEM careers so that they may eventually become part of the STEM workforce."
The STEM Expo will be held at three APG locations. At the Army Research Laboratory STEM Campus students will learn about brain-computer interfaces, robotic system tele-operations, network routing, and additive manufacturing.
At the Aberdeen Test and Evaluation Facility they will participate in an interactive body armor demonstration, a high speed interactive video demonstration, a vehicle inspection and course monitoring demonstration and a Whack-a-Dummy demonstration where they will learn how an instrumented anthropomorphic dummy provides what Soldiers endure in battle.
And at the Chemical Demilitarization Training Facility on the Edgewood Area of APG students will learn about reverse engineering, light spectroscopy, detecting the threat, filtration science, super polymer absorbents and bridge building.
Students from Harford County Public Schools, Cecil County Public Schools, Baltimore City Schools, the Thurgood Marshal College Fund, and the Vivian Burey Marshall Academy are scheduled to participate.
Media are invited to this event. Please coordinate attendance with the RDECOM Public & Congressional Affairs Office. Call 443-395-4006 to register or for more information.