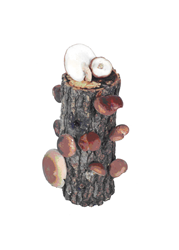 "We've redefined and redesigned our image and our attitude. We're upbeat, more fun, and the new energy is just wonderful."
Perkins, OK (PRWEB) September 21, 2016
Shiitake Mama, Shiitake Ma & Pa, Baby 'Shroomie, Big Boy and the grandad, Shiitake Tree in a Tray are the newly created concepts of Sandra Williams, aka Shiitake Mama, of Lost Creek Mushroom Farm. The Shiitake Family of DIY kits are making their grand debut on a new website, http://www.shiitakemushroomlog.com.
"After 23 years in business we've redefined and redesigned our image and our attitude," said Williams. "We're upbeat and the new energy and site are just wonderful. I was on the Web as The Mushroom Lady for years. Now I'm re-casting myself as Shiitake Mama, more vibrant and a lot more fun."
The shiitake log kits are made from lengths of hardwood logs such as oak, gum, and cherry. They are ready to grow organic shiitakes when soaked in non-chlorinated ice-water, which starts the mushrooms growing, or "fruiting." (See how they do it here). In 6-10 days they're ready to harvest. According to Shiitake Mama, "A log grows just a few mushrooms at first with increasingly larger crops as it matures. In the second and third year, the log can be covered top to bottom with beautiful brown shiitakes."
Logs 10 inches and larger are guaranteed to grow shiitakes and will produce for years. They'll grow indoors like plants, outdoors in shade, or both. Kits include easy-start and detailed instructions and a Lost Creek Mushroom Farm recipe booklet. Prices range from $20 to $90 and include shipping.
The best-seller, Shiitake Mama Kit, a 10-inch log sells for $33.30. The Shiitake Ma & Pa Kit contains two 10-inch logs for $55.50. They can yield a shiitake harvest every month instead of every two months by alternating the fruiting log. Fruited together, they grow more mushrooms than a single 20-inch log. Williams explains, "That's because pheromones communicate between the logs, increasing the amount of mushrooms."
Baby 'Shroomie is a 6-inch log for $20. It fruits the same way as the larger kits but is not guaranteed because of shipping costs. The Big Boy is a 12-inch log for $38. Shiitake Tree in a Tray, the granddaddy of Shiitake Mama's family, is a 14-inch log with its own tray for soaking, fruiting and resting (storing) the log.
"The top of the line is the Best Buy, two 14-inch logs in soaking trays shipped to the same address at a substantial savings. They can be alternated for monthly harvests or fruited together for large harvests. "I like to say, get the Best Buy. Give one as a gift and keep one for yourself," Williams said.
The Shiitake Sampler cookbook by Janet Bratkovich has 51 kitchen-tested shiitake recipes. The price is $8.95 when shipped with a log or $10.95 shipped separately.
Order online or by phone at 1-800-792-0053. Free brochures are available on request.
A portion of sales is donated to Mushrooms for Well Being Foundation: Mushrooms in Ghana Project, building a laboratory to produce spawn (the mushroom seed material). Mushroom farming is a proven course to freedom from poverty, but spawn shortages keep small-scale mushroom farmers from succeeding. The lab will serve West African farmers, most of them women supporting their families and feeding their communities. The website accepts donations.