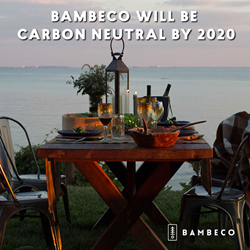 Focusing on carbon reductions in all business practices has always been a focus and becoming carbon neutral is the next step down that path.
Baltimore, MD (PRWEB) September 21, 2016
Bambeco, the premier brand for sustainable home goods, has demonstrated leadership in implementing a low carbon business and supply chain since its founding. Launched through the lens of sustainability, the company was created with a focus on addressing consumer desire for products that are clean, safe and healthy while delivering on style, price and quality. Reflecting their ongoing commitment to sustainability, Susan Aplin, Bambeco Chief Executive Officer and Co-Founder announced new operational goals for Bambeco to achieve carbon neutrality by 2020, an achievement that will make them the first net-neutral home goods company.
"As a business that was built around sustainability, I've seen the positive and compounding impact that carbon neutrality can have both on the planet and a company's bottom line," said Aplin. "Focusing on carbon reductions in all business practices has always been a focus and becoming carbon neutral is the next step down that path. We hope to inspire other businesses through our continued success."
Announced during Climate Week NYC where Aplin was a guest speaker, she also emphasized how a brand's social purpose is seen as a key factor influencing purchase decisions: 91% of global consumers expect companies to do more than make a profit but moreover to address social and environmental issues, and 84% of consumers say they seek out responsible products whenever possible. Yet of the billion-dollar global home furnishings industry, only a small fraction of brands have made a clear commitment to sustainable practices both as a business and in the products they retail.
"We believe in our shared responsibility to help defend against the impacts of climate change. Bambeco was founded as an eco-friendly business and we have always focused on attaining sustainability through green supply chains and the implementation of low carbon strategies. This commitment was unlocked in the first mile of our work from the raw materials we source to knowing where they come from. Today we're proud to share that 51% of our products are made from raw materials diverted from landfills and the rest from renewed and organic materials."
The work Bambeco has been doing for years in product design and innovation, centralization of production in regions that use more alternative energy, and carbon free transportation have been key towards building a low carbon business. Bambeco will now challenge itself to further develop and implement real efficiencies across the business – direct and indirect – to achieve decarbonization.
About Bambeco:
Launched on Earth Day 2009, Bambeco is the premier brand for sustainable home goods. Every product is carefully designed to ensure it is made using responsible processes and materials that are reclaimed, repurposed, renewable, recycled, natural, or organic. Many of the products are artisan-made, handcrafted, and made in the US. The company's mission is to bring the sustainability movement home and change the world, one room at a time. For more information visit http://www.bambeco.com.