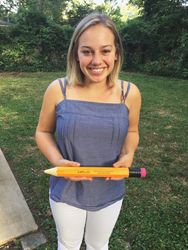 STERLING, ILLINOIS (PRWEB) October 04, 2016
Promotional products leader HALO Branded Solutions is pleased to introduce Anna Grace Goode, the 2016 winner of their annual scholarship competition.
Ms. Goode, a full-time student at the University of Georgia, was chosen from a talented and diverse field of applicants. For her creativity, dedication, and outstanding academic achievements, HALO Branded Solutions is pleased to offer Anne Grace Goode a $3,000 scholarship to continue her studies.
"HALO Branded Solutions is proud of our dedication to forward thinking and passion-fueled results. That's why we're so proud to announce Anna Grace as our 2016 scholar," said Terry McGuire, Senior Vice President of Marketing. "She began her college career while still in high school and has showcased a continued commitment to excellence that we're proud to support."
Applicants were required to carry a minimum 3.0 GPA and submit a letter of recommendation along with an essay. The essay, which needed to be 400-600 words in length, answered prompts based on marketing topics.
Originally from Rydal, Georgia, Ms. Goode is majoring in Agriculture Economics and Agriculture Business. Ms. Goode has ambitions to work as a consultant with large farming operations, helping them to create and present an optimized image to the public.
Ms. Goode expects to graduate from The University of Georgia in Spring 2018.
With the announcement of HALO's Spring 2016 scholarship winner, HALO would also like to open its Fall 2016 Scholarship to applicants. Three prizes will be awarded: first place: $1,500, second place: $1,000 and third place: $500. For more information on rules and how to apply, please visit https://www.halo.com/scholarship-contest.aspx
About HALO Branded Solutions
HALO Branded Solutions, with operational headquarters in Sterling, Illinois, is a leading promotional products distributor in the $23 billion per year promotional products industry. The Company has a growing nationwide sales force and expects to continue its profitable growth by offering innovative client solutions, priced competitively, and supported by world-class operations and customer service. For more information, visit https://www.halo.com.