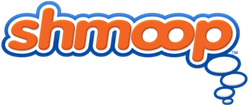 Mountain View, California (PRWEB) September 22, 2016
Whether someone's short on time or money or just doesn't have the flexibility needed to attend a brick and mortar college, online education is a great solution. The problem? Most online courses are snooze-worthy and, uh, don't really teach anything. At least not well.
Enter: Shmoop. Shmoop (http://www.shmoop.com), a digital publisher known for its certified online courses, is now offering college-level courses. Thirteen of Shmoop's online courses have been recommended for ACE CREDIT, which means they are considered for college credit at up to 2,000 schools nationwide. This isn't just a print-it-for-your-fridge kind of certificate. It's the real deal.
With a College Plus Shmoop subscription, users will get access to all of Shmoop's ACE CREDIT recommended courses and can work through them at whatever pace they'd like, while wearing—or not wearing—whatever wardrobe they'd like. Yep, them's the perks of online learning.
The best part? It's less than half the cost of normal college credit-eligible courses online. Users only need to shell out $87.68/month for unlimited usage. It's not even worth doing the math to compare that to what it would cost for a year of college. Plus, Shmoop teaches students what they need to know without putting them to sleep, using engaging introductions and readings with more puns and pop culture than you can shake a selfie stick at.
Currently, Shmoop has received credit recommendations for thirteen courses, including three history courses, U.S. and European, and ten math courses, ranging from Pre-Algebra and College Mathematics to Pre-Calculus and Finite Mathematics. Over the course of the next year, Shmoop plans to increase their offerings to include courses in literature, economics, finance, computer programming, science, psychology, and more. After completing any of Shmoop's ACE CREDIT recommended courses with a 70% overall grade or above, users can head over to the ACE CREDIT Transcript Service website to request that the course be added to their transcript.
Individual students can subscribe to Shmoop's College Plus plan, and corporations interested in helping their employees earn college degrees while working can contact sales(at)shmoop(dot)com for information on bulk discounts.
About Shmoop
Shmoop offers hundreds of thousands of pages of original content. Their Online Courses, Test Prep, Teaching Guides, Learning Guides, and interactive Study Tools are written by teachers and experts and balance a teen-friendly, approachable style with academically rigorous concepts. Shmoop sees 15 million unique visitors a month across desktop and mobile. The company has won numerous awards from EdTech Digest, Tech & Learning, and the Association of Educational Publishers. Launched in 2008, Shmoop makes the magic happen from a labradoodle-patrolled office in Mountain View, California.
About ACE
Founded in 1918, ACE is the major coordinating body for all the nation's higher education institutions, representing more than 1,600 college and university presidents and more than 200 related associations nationwide. It provides leadership on key higher education issues and influences public policy through advocacy. For more than 30 years, colleges and universities have trusted ACE CREDIT to provide reliable course equivalency information to facilitate their decisions to award academic credit. For more information, visit the ACE CREDIT website at http://www.acenet.edu/credit.