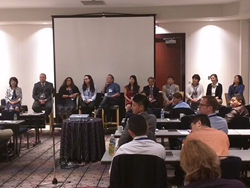 Vancouver, Canada (PRWEB) September 20, 2016
The fact that cardiomyocytes derived from pluripotent stem cells recapitulate many key characteristics of cardiac physiology makes them an extremely powerful tool for a broad spectrum of in vitro studies. One such application involves using human induced pluripotent stem cell cardiomyocytes (hiPSC-CMs) to screen molecules for cardiotoxicity at early stages in the drug discovery/development pipeline, thereby reducing the costs and risks associated with bringing a drug to market. Another key application is using patient-derived hiPSC-CMs to model diverse cardiomyopathies; this facilitates characterization of their molecular etiologies and screening for therapeutic interventions.
This past weekend ACEA Biosciences hosted the 4th Annual Cardio Symposium as a forum to promote scientific exchange and collaboration amongst scientists working at the forefront of cardiac safety assessment and cardiovascular disease model research. 70+ experts from industry, academia, and government labs gathered at the Hyatt Regency in Vancouver (Canada) to share their findings.
Dr. Jason Maynes (Director of Research and Staff Anesthesiologist at The Hospital of Sick Children, Canada) and Dr. Farah Sheikh (Professor of Medicine at UC San Diego) both demonstrated the use of hiPSC-CMs in conjunction with ACEA's xCELLigence® RTCA CardioECR instrument to simultaneously characterize contractility and integrated ion channel activity. By this approach, the Maynes group has discovered novel therapeutics for heart failure, while the Sheikh group has studied cardiomyocyte cell lines derived from "genetically, biochemically and physiologically characterized patients afflicted by right ventricular cardiomyopathy (ARVC)."
In the realm of in vitro toxicity testing, speakers from both government and pharmaceutical companies showcased their cardiac toxicity screening data, and concluded that by coupling xCELLigence® with other technologies in screening hiPSC-CMs they are capable of flagging clinically unsafe compounds and providing predictable clinical outcomes. Cell quality control and the processes necessary for producing hiPSC-CMs of mature phenotype were also a heated topic of discussion at the symposium.
More than 20 members from the Japanese Safety Pharmacology Society (JSPS) and the Japan iPS Cardiac Safety Assessment (JiCSA) initiative were in attendance. Among them, Dr. Kohei Sawada (President of the JSPS) gave a talk about assessing drug-induced Torsade de Pointes risk. Dr. Yuko Sekino (National Institute of Health Sciences, Japan) described Japan's current strategies for using hiPSC-CMs in safety pharmacology studies.
For a complete list of speakers and talk titles from the symposium, view the complete program.
The themes from ACEA's Cardio Symposium will carry into Safety Pharmacology Society meeting taking place this week in Vancouver. There will be 2 talks and 10 posters citing xCELLigence® Cardio and CardioECR technology. In addition, ACEA will host a workshop (with the following 2 talks) from 6:00-7:00 PM on Tuesday September 20 to highlight the utility of the robust pacing function of CardioECR System.
Impact of Electrical Pacing on Cardiomyocyte Contractility and its Implications for Safety Assessment
Xiaoyu Zhang, Ph.D. (Research Scientist at ACEA Biosciences)
Pacing of Human iPSC Cardiomyocytes as a Useful Tool in Cardiovascular Safety Assessment
Hong Shi, M.D. (Senior Research Scientist at Bristol-Myers Squibb)
Download the summary and agenda of these activities here.
About xCELLigence® and the Cardio ECR Instrument
ACEA's xCELLigence® Real Time Cell Analysis (RTCA) instruments utilize gold microelectrodes embedded in the bottom of microtiter wells to non-invasively monitor the status of adherent cells using the principle of cellular impedance. In short, cells act as insulators – impeding the flow of an alternating microampere electric current between electrodes. This impedance signal is measured automatically, at an interval defined by the user, and provides an extremely sensitive readout of cell number, cell size/shape, and cell-substrate attachment strength. Unique amongst the xCELLigence line of instruments, the Cardio ECR model combines real-time impedance recording with field potential measurement and a pacing function to provide a view of cardiomyocyte health at an unprecedented level of detail. Learn more about the xCELLigence Cardio ECR instrument, and how it is revolutionizing cellular cardiology research.
About ACEA Biosciences
Founded in 2002, ACEA Biosciences is a pioneer in the development and commercialization of high performance, cutting edge cell analysis platforms for life science research. ACEA's xCELLigence® impedance-based, label-free, real-time cell analysis instruments and NovoCyte® flow cytometer are used in pre-clinical drug discovery and development, toxicology, safety pharmacology, and basic academic research. More than 2,000 instruments have been placed globally, leading to >1,200 peer reviewed publications.
For more information visit http://www.aceabio.com.
For further information please contact:
ACEA Biosciences, Inc.
Dr. Jeff Xue
Phone: 1-858-724-0928, x3075
email: jxue(at)aceabio(dot)com