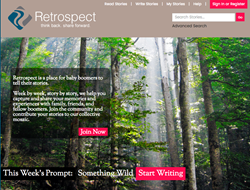 We are a storytelling species. It is through stories that we remember, learn, and make sense of our world and, ultimately, our lives.
Menlo Park, CA (PRWEB) September 28, 2016
Retrospect Media today launched a new crowd-sourced website where members of the baby boom generation can write, publish, and share their memories, wisdom, and life experiences. The free website, myretrospect.com, has just emerged from beta test, during which the company designed and refined features in direct response to customer feedback.
Co-founder Patricia Zussman says: "Everyone wants to be heard, to know that their life mattered, and no one knows your own story better than you. Sharing our stories affirms that we are all in this together."
Although members can write about anything they want, Retrospect makes it easy to get started with weekly writing prompts designed to evoke memories and feelings. For example, a recent prompt, My First Car, elicited evocative stories about the jalopies, trucks, and sports cars that people owned in their youth. And reading others' stories often jogs one's memory of long forgotten events. Other sample prompts include Working, How We Met, Camp, Turning Points, and Siblings.
**Why Boomers?**
Retrospect is aimed at baby boomers (born 1946–1964) because their stories are being lost. (Near-boomers and non-boomers are welcome too—especially friends and families.) This generation didn't write letters the way their parents and grandparents did, and they won't leave the digital footprint their children will. Ten thousand boomers are retiring every day, so now is the time to record those memories. The baby boom generation represents a unique place in history, both in numbers and in impact. They raised their voices when they were young, and they still have a lot to say.
According to co-founder Susan Hansen: "As a generation, we baby boomers came of age and formed our identity by speaking out in the cause of peace or civil rights. Now is our chance to reaffirm our life's experiences and share them—with each other and with our children."
**Storytelling Builds Community**
The new website is a perfect place for Retrospect members to capture memories from all ages of their lives, in digital format where they can be shared as desired. At this age, baby boomers are thinking about what they can pass on to their children and grandchildren. So members can start by choosing the stories they want them to know—the experiences that shaped them and the world we live in now.
"You can, if you wish, share your stories only with your family and friends," explains co-founder John Zussman. "But something magical happens when you share with other Retrospect members as well. It's a testimony to the power of storytelling to build bonds and form a community."
**The Retrospect Advantage**
Never written anything? Retrospect can help. Writing style is less important than telling an authentic story as it was experienced. Retrospect makes the process easy—and even fun! The site is designed to feel like a lively dinner party of old friends and amiable strangers where, amid tasty food and flowing wine, the conversation turns to young love or old TV shows or lessons learned, and everyone chimes in with their best story.
**About Retrospect**
Retrospect Media, Inc., is a new company founded by three entrepreneurs, Patricia Zussman, Susan Hansen, and John Zussman. Boomers themselves, they have pooled their experience in technical and creative writing, technology, management, fundraising, and marketing. Retrospect's mission is to help baby boomers preserve, pass on, and share their stories, experience, and wisdom.