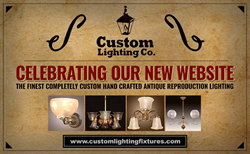 We renamed the company to coincide with the new website, a new 'look and feel', as well as a new mobile friendly and very simple to navigate experience for our clients.
San Diego, CA (PRWEB) September 22, 2016
Custom Lighting Fixtures, Inc. announced that the company has changed its name to Custom Lighting Company. (CLC). Coinciding with the rebranding and restructuring of Custom Lighting Fixtures, Inc. to Custom Lighting Company is the launch of their outstanding and extensive new mobile friendly website.
Established in 2001, CLC designs and offers the finest in museum quality, completely custom, hand crafted, solid brass antique and period accurate vintage lighting fixture reproductions, all Made in the USA. Besides selling to the general public, CLC works with many interior designers, architects, set designers and others in the design trades. More notable clients include The US Capitol, Paramount, Warner Bros., Disney, HGTV, The Ritz-Carlton, Parker Hotels, US Postal Service, US Army, Museums, and Restaurants, among others.
CLC is not another reseller of the same mass produced lighting found at nearly every retailer. They use UL listed porcelain sockets, not the cheap plastic variety. CLC designs and manufactures their own lighting fixtures, all made to order per client specifications. What makes CLC unique is that with every single one of their fine one-of-a-kind antique reproduction light fixtures comes with the unique ability to customize just about every aspect of its design, whether for bathroom lighting, kitchen lighting, dining room chandeliers and many other vintage style lighting.
Custom Lighting Company's many Custom Options include customer choice of metal finishes such as antique brass (light, medium or dark), polished or satin brass, polished, weathered, matte or satin finishes in nickels, chromes, pewters, bronzes, even 24K gold. Clients can also choose to combine the finishes on their fixtures such as polished brass and pewter combination. CLC's custom options continue even further with custom height, width, diameter, back plate or canopy choice, glass shades, fabric shades, arm direction, arm style, number of arms, center body style, holder style, tubing style and more, all the way down to the smallest finial. These many custom lighting fixture options simply translate into virtually Endless Design Possibilities.
Members of the Design Trade including Interior Designers, Architects, Scenic Designers, Set Decorators and the like are encouraged to fill out the CLC "Design Trade Application" offering qualified Trade Members an instant 10% discount, plus additional discounts for quantity purchases, also available to general consumers.
If you would like to carry CLC's lines as a distributor, or feature CLC's lighting fixtures on TV or in a magazine, please contact them directly using corporate(at)customlightingfixtures(dot)com.
Visit CLC's New Website: http://www.customlightingfixtures.com
General Email: info(at)customlightingfixtures(dot)com
Toll Free Number: 1-888-523-1999 (in US and Canada)
Outside the US and Canada: +1-760-613-9801
Facebook: https://www.facebook.com/CustomLightingFixtures
Twitter: https://twitter.com/customlighting2