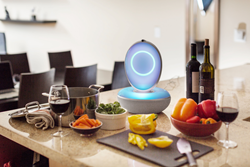 HANGZHOU, China and SAN FRANCISCO, Calif. (PRWEB) September 21, 2016
Rokid, Inc., an artificial intelligence (AI) and robotics company, today announced that it won a Red Herring Top 100 Asia award. Rokid was the only artificial intelligence and robotics company to earn a Red Herring Top 100 Asia award. Rokid is a smart home device featuring advanced artificial intelligence (AI) and deep learning that enriches a consumer's life by delivering information on-demand and performing tasks via voice and visual interactions. Rokid's superior engineering and elegant design makes it an essential family addition.
Red Herring Top 100 Asia enlists outstanding entrepreneurs and promising companies. It selects the award winners from approximately 2000 privately financed companies each year in Asia. Red Herring is a global media company, which unites the world's best high technology innovators, venture investors and business decision makers in a variety of forums, including print, online and exclusive events worldwide. Since 1996, Red Herring has kept tabs on these up-and-comers. Red Herring editors were among the first to recognize that companies such as Google, Facebook, Kakao, Alibaba, Twitter, Rakuten, Salesforce.com, Xiaomi and YouTube would change the way we live and work.
"Our inclusion in the Red Herring Top 100 Asia is testament to Rokid's technology and what it brings to consumers," said Misa Zhu, founder and CEO, Rokid, Inc. "An IoT Hub, Rokid brings smart devices and experiences together. The result is a truly innovated lifestyle that simplifies tasks and makes it more fun for the entire family."
"In 2016, selecting the top achievers was difficult as always," said Alex Vieux, publisher and CEO of Red Herring. "The variety, depth, disruption and traction we saw from the early stage companies to those with significant scale made 2016 a great vintage to judge. The Asia winners are representative of the amazing ecosystem that never ceases to astound, with new and experienced entrepreneurs continuing to push the barriers of innovation. As one of the winners, Rokid should be proud of its accomplishment."
Rokid's Red Herring award is the latest recognition for the company in 2016. In January 2016, Rokid was chosen as a CES Innovation Honoree. This distinction reflects innovative design and engineering in some of the most cutting edge tech products and services coming to market. In April 2016, Rokid garnered a TiE50 Winners Award and was a TiE50 Top Start-Up Awards recipient. TiE50 is the Silicon Valley's premier annual awards program keenly contested by thousands of technology start-ups worldwide.
About Rokid's Smart Family Technology
Rokid easily recognizes each user and adapts to their specific personality and needs with its multi-dimensional voice and visual interaction abilities. It delivers information on-demand and performs tasks for users through engaging two-way exchanges. From turning on the lights and playing your favorite song, to providing today's weather, Rokid seamlessly interacts with consumers, serving as a resource, an entertainer and a truly intelligent addition to the home.
Rokid emphasizes premium quality in every facet of build from software and hardware to industrial design and manufacturing. Most of the device's hardware is independently designed or highly customized, offering truly unique and optimal performance.
About Rokid, Inc.
With offices in San Francisco, Calif., Hangzhou and Beijing, China, Rokid, Inc. was founded in July of 2014. Rokid is in the forefront of Artificial Intelligence (AI) category. The global staff of over 90 features over 15 PhDs and more than 30 Master's holders, which include prominent scientists, engineers, and business leaders with expertise in artificial intelligence, robotics and manufacturing. For more information, please visit us at http://www.rokid.com/about and keep up to date on our progress on Facebook.