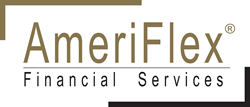 Santa Barbara, California (PRWEB) September 21, 2016
AmeriFlex® Financial Services (AmeriFlex®), a Santa Barbara-based company, announced Monday, September 19, 2016, the addition and integration of their newest office in Scottsdale, AZ.
"We are so excited to be working with Jonathan Zweifel, CFP®. He represents the highest moral and ethical standards in the financial services industry," said Thomas Goodson, CEO of AmeriFlex®. "Our partners have the choice to maintain their current business name or adopt the AmeriFlex® brand, and we are proud that Jonathan has chosen to take up the AmeriFlex® marque."
AmeriFlex® provides business development tools that advisors typically do not receive from their Broker/Dealer. Stricter regulations are prompting advisors to seek out larger groups that understand how to navigate these new rules. "By streamlining office systems, providing customized marketing, and leveraging technology, we help Advisors position their practice to not only survive, but to thrive in the D.O.L. fiduciary landscape," said Jesse Kurrasch, Director of Advisor Relations.
----Diana Y. Heu is a Partner and CIO for AmeriFlex® Financial Services.