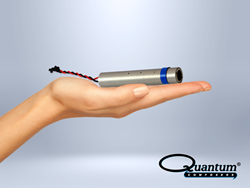 this is a very exciting instrument in that it's one of the smallest, most robust lasers in its class. There has already been a tremendous amount of interest"
Bozeman, MT (PRWEB) September 21, 2016
Quantum Composers, a leader in the Photonics industry, announced in early 2016 they were expanding to offer a new line of compact lasers designed to meet the needs of the ever-growing industry of handheld, portable, and mobile systems. Their laser line already includes a compact multi-wavelength Jewel series and a Mid-IR option. This month, they will add a new ultra-compact micro-laser to their portfolio. The new MicroJewel Nd:YAG laser will weigh in at just 40 grams and will be only 3 inches in length. Its remarkable size and weight will make it ideal for such applications as portable and handheld LIBS, LIDAR, and velocimetry applications. The MicroJewel also brings a long awaited affordable and high precision option to the industrial photonics market with an overall focus on reliability, ease of integration, and reduced power consumption. It features a proprietary inline resonator that reduces the space and weight limits on laser systems. The instrument also has an integrated thermal management system designed for applications that require high reliability.
Quantum Composers designs lasers and micro-machining head systems for a variety of industrial and medical applications. In their years of designing instruments for integration, QC recognized a need for more rugged and compact lasers that would integrate seamlessly into a variety of systems. The new MicroJewel series is designed in a mono-block style with "Military Grade" mounting for resonator optics to create a more robust and reliable resonator. It has an end-pumped diode for increased efficiency and an excellent thermal path for its diode and laser rod, with a unique design that features the ability to create different optical configurations which can be optimized for different parameters (divergence vs. energy) depending on customer needs.
Quantum Composers Director of Sales and Marketing, Will Bomar says that "this is a very exciting laser in that it's one of the smallest, most robust in its class. There has already been a tremendous amount of interest in the laser and we expect to ship the first of the pre-ordered units by the end of October".
About Quantum Composers:
Quantum Composers was founded in 1993 in Bozeman, Montana. Over the last 20 years, Quantum has become an internationally recognized pioneer in the Photonics marketplace with the design and development of a precision pulse generator line and as a provider of custom laser systems for micro-machining applications.
To learn more about the MicroJewel Laser please visit us on the web at http://www.quantumcomposers.com Please direct any questions to Erin L. Prieskorn, Marketing Manager, at 406-582-0227 Ext122.