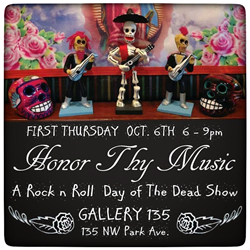 Portland, OR (PRWEB) September 22, 2016
IDL Worldwide and Gallery 135 are pleased to invite the public to enjoy a curated Rock n Roll Day of the Dead show as part of October's First Thursday Art Walk in Portland's Pearl District.
Over 50 artists pay tribute to the great musicians who have passed on yet continue to influence, inspire and enrich our lives. A wide variety of media and style will be represented by artists from Portland, Denver, Chicago and Los Angeles. Join us for a festive celebration in the spirit of the great Mexican holiday: El Día de los Muertos(Day of the Dead).
The show will include a large Community Offrenda (altar) created by the artist Corona. The public is invited to contribute a small photo, memento or other offering for a deceased loved one or favorite musician.
"In our largest show of the year, we're excited to host artists of all disciplines as they pay tribute to their favorite musicians. The interactive element of the altar encourages the public to participate, making this a truly communal exhibit." - Lisa Klupenger, IDL Creative Lead
Event Information:
Honor Thy Music
Date: Thursday, October 6th, 2016
Time: 6PM - 9PM (PDT)
Location: Gallery 135 / IDL Worldwide, 135 NW Park Avenue, Portland, OR 97209
Attendance is free. Refreshments provided..
For more information, visit the Gallery 135 Facebook page, or contact Sonya Klinger, IDL Marketing at sklinger(at)idlww(dot)com.
About IDL Worldwide:
IDL Worldwide partners with world-class brands to create elevated and enriching experiences at retail. From consumer strategy and design through fabrication, print production, and implementation, IDL is a one-stop shop for brands looking to connect with consumers in the physical space. IDL is an SGK Group company. For more information visit http://www.idlww.com.