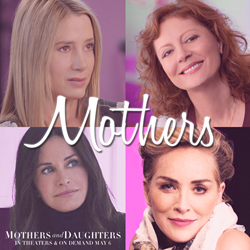 Los Angeles, CA (PRWEB) September 29, 2016
Mary Aloe announces MOTHERS AND DAUGHTERS. The movie continues its success from its theatrical release and as an indie favorite from Screen Media and Lotus Entertainment garnering #1 spot on ITunes and now successfully on Netflix. Executive Producer Mary Aloe and Aloe Entertainment along with Executive Producers Daniel Grodnik, Sean Glover and Producers Amy Williams and Danielle James, bring an all star cast with great performances starring Academy Award winners Susan Sarandon and Mira Sorvino, along with Golden Globe winner Sharon Stone, Selma Blair, Christina Ricci, Courtney Cox and Ashanti. Mira Sorvino has already won Best Supporting Actress at the 2016 Milan International Film Festival for the film. Aloe Entertainment is excited by the continued nominations.
As well, Mary Aloe and Grodnik/Aloe Productions have produced and financed a record eight features in under two years alone and they are about to start their ninth feature in the next thirty days. Some of the movies that Mary Aloe and Daniel Grodnik have executive produced / produced and financed are last week's theatrical release, with The Weinstein Company, WILD OATS, starring Oscar Winners Shirley MacLaine and Jessica Lange, along with Demi Moore; the Sundance premiered movie, also with Screen Media, TEN THOUSAND SAINTS, starring Oscar nominees Ethan Hawke, Hailey Steinfeld, Emile Hirsch, along with Asa Butterfield; TIGER starring Golden Globe winner Mickey Rourke; the upcoming theatrical release with Sony Worldwide of 55 STEPS starring two-time Oscar winner Hilary Swank, two-time Oscar nominee Helena Bonham Carter and Golden Globe winner Jeffrey Tambor. The Aloe Entertainment team is also in post production with MARA starring Olga Kurylenko and Javier Botet, with the producer of PARANORMAL ACTIVITY; and COUP D'ETAT starring Sir Michael Caine, Katie Holmes, Jason Biggs, Seth Green and Odeya Rush.
About Aloe Entertainment / Grodnik Aloe Productions:
Aloe Entertainment specializes in obtaining 100% financing for features by raising private equity, working with hedge funds, gap financing, top tier of foreign sales companies and securing domestic distribution. At the helm of Aloe Entertainment is producer and film finance expert, Mary Aloe. She has been called upon by numerous industry panels to lecture on her unique area of expertise: guiding investors through various models of debt, equity, tax-credits, pre-sales and distribution channels to generate significant ROI and create meaningful theatrical releases with artistic and social impact upon the world. In particular, Mary Aloe's team gravitates to projects based on bio-pics and true-life events. The team's vast funding experience and successful track record enable Aloe Entertainment to develop/produce independent and studio features, television series, network/cable event movies. Mary Aloe's deals flow ever green.
Among the many reviews of MOTHERS AND DAUGHTERS, here's one from the LosAngelesExaminer.com, which the team loves:
"Selma Blair plays a rock photographer who is riding a career high when an unlikely and unexpected pregnancy forces her to turn her lens inward. As she slowly comes to terms with what it might mean to change her life forever, she discovers with fresh eyes her own relationship with her estranged mother. Courteney Cox, Christina Ricci, Susan Sarandon, Mira Sorvino and Sharon Stone also star. (PG-13 - 90 minutes)"
[Aloe Entertainment is thrilled that the review continues with this last paragraph...]
"So long as you go in understanding that MOTHERS AND DAUGHTERS is more a series of insightful dialogues than it is a conventional narrative, you are likely to emerge satisfied and perhaps even a little emotionally enlightened. The thing that makes director Paul Duddridge's new ensemble drama work is its exceptionally talented cast. Viewers become genuinely invested in each of these women's stories because the sincerity of the actresses' performances. (3 Stars)"
And the praise hasn't ended. Hot off the presses is this latest review taken from September 16th's LetsTalkMotionPictures.com that Mary Aloe wants to share:
"Yesterday I mentioned that I had some movies I was yet to review, so today I'm going to introduce you to a very good movie that reminds a lot about Mother's Day as it contains the same elements and is about the mother-daughter connections. For starters, what's with the awesome casting in this movie?! Christina Ricci, Courteney Cox, Sharon Stone, Susan Sarandon, Selma Blair, Paul Wesley, Mira Sorvino… Si, señor! You had me at Courteney Cox.
Mothers and Daughters is about different stories about families with mother-daughter issues, the main character being the photographer Rigby, portrayed by Selma Blair, who gets pregnant and doesn't know if she should keep the baby. Then there is a story about a daughter being adopted, one about a daughter disowning her mother, one about how a daughter realizes that her mother is actually her sister, and so on. Unlike 'Mother's Day,' this is not a comedy but rather an indie drama not containing much humor. Mothers and Daughters portray the reality when it comes to mother-daughter issues while 'Mother's Day' made everything seem oh-so-perfect and much easier than it is in real life."
[Aloe Entertainment team also raves the great cast, like the following:]
"...I enjoyed MOTHERS AND DAUGHTERS because it's a movie about real life problems. Every possibility of motherhood is covered very beautifully in this movie, and when you combine that with very good acting, you can't go wrong. Christina Ricci did an impeccable job portraying a confused daughter who goes through real heart ache. Every cast member does a perfect job, which adds to the emotion the movie is aiming for. MOTHERS AND DAUGHTERS is incredibly enjoyable and, at times, you don't only see mother-daughter connections but also mother-son connections that are very special as well. What I also liked about this movie is that we see women with different lifestyles and careers, which makes it more relatable.
I am going to give MOTHER AND DAUGHTERS a solid 4 out of 5 clapperboards because it touches upon some great real-life issues, the acting is close to flawless, the different stories are very intriguing and I'm sure that some of them will make you shed a tear or two."
Mary Aloe and the team at Aloe Entertainment and Grodnik/Aloe Productions are excited about this movie and the many others in the pipeline.