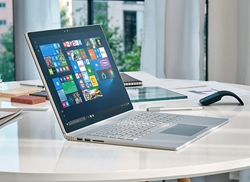 This is solid technology with concrete benefits to reduce costs and improve productivity.
(PRWEB) September 21, 2016
An NYC area IT consultant and MSP presents a varied list of ideas to help businesses explore potential uses for Microsoft's Remote Desktop Services product, formerly known as Terminal Services. The list appears in a new article on the eMazzanti Technologies website.
The flexible and powerful Remote Desktop Services technology, a component of Microsoft Windows and Windows Server is used by thousands of organizations globally to expand access and improve data security for remote workers. The article seeks to inspire organizations to use the product creatively to expand business operations.
"Remote Desktop Services reliably helps many of our best customers work productively from remote locations," stated Ervis Zeqo, Business Development Manager, eMazzanti Technologies. "This is solid technology with concrete benefits to reduce costs and improve productivity."
Below are a few excerpts from the article, "Expand Your Business with Remote Desktop Services."
"Remote Desktop Services extends the organization beyond the office walls, enabling increased productivity and exciting new capabilities… The fact that no critical data is stored on remote workstations makes Remote Desktop Services ideal for organizations with mobile, contract or work-from-home employees."
"Extend your company network around the world! To get started, here are just a few of the exciting ways to build and streamline your business with Remote Desktop Services:
1. Open a remote office and inexpensively access the home office software.
2. Give field employees access to data entry functions to reduce duplicate work and trips to the office.
3. Host your accounting software with a cloud company and provide access to accountants and part-time bookkeepers working from home.
4. Inexpensive retail showroom customer kiosks with centralized control.
5. Shop floor workstations where damage to computer equipment is possible…"
More ways to use Remote Desktop Services >>
"IT managers love Remote Desktop Services because it accelerates and extends deployments to any device. In addition, faster set-up and broader access improves remote worker efficiency. Finally, centralized data storage helps to keep critical intellectual property secure, simplifying regulatory compliance," the article concludes.
Endless Possibilities
Remote Desktop Services removes barriers to access and productivity in today's flexible work environments. Increased data security for remote workers also makes it a must for organizations with strict compliance rules. With a company network extended virtually across the Internet, the potential to easily expand business operations into new locations becomes limitless.
Related Resources
25 SharePoint Ideas to Use in Your Business
15 Years of Growth with No Increases in MSP Rates
About eMazzanti Technologies
eMazzanti's team of trained, certified IT experts rapidly deliver cloud and mobile solutions, multi-site implementations, 24×7 outsourced network management, remote monitoring and support to increase productivity, data security and revenue growth for clients ranging from law firms to high-end global retailers.
eMazzanti has made the Inc. 5000 list seven years running, is a 2015, 2013 and 2012 Microsoft Partner of the Year, and a 5X WatchGuard Partner of the Year. Contact: 1-866-362-9926, info(at)emazzanti.net or http://www.emazzanti.net Twitter: @emazzanti Facebook: Facebook.com/emazzantitechnologies.