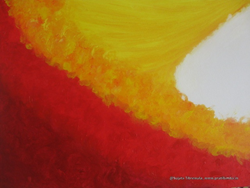 The new exhibit celebrates the rhythm and colors of nature during the fall season
(PRWEB) September 22, 2016
"Autumn is a second spring, when every leaf is a flower," said French philosopher Albert Camus about the majesty of the season of Fall.
Artist Sujata Tibrewala, mesmerized with the beauty of the season, is out with a new exhibition that tries to capture the colors, the rhythm and the bounty of nature that presents itself in an ornate form during the season.
The artist believes that the season of Fall in America has been of legendary importance. For centuries it has inspired road trippers, photography enthusiasts, travelers, poets and artists to admire that exclusive beauty that every tree and every leaf bears during the season.
For the artist, the season has always held a symbolic importance. She believes it's the nature's way of announcing the impending long grey winters in the most colorful way. Almost in a philosophical manner, the nature assumes vibrant hues just so to assure the onlookers that the colors of spring will return soon after the snow and the sleet is over.
Ms Tibrewala's acrylic on canvas work titled 'Music Within' displayed at the exhibit beautifully encompasses the myriad textures of nature. It resonates with the energy that different seasons bring along with them. From the warm hues of summer to the deep winter blues and to the mind-blowing possibilities that autumn offers. The artist says that the nature almost synchronizes its melody with the music within our souls. The painting is a celebration of colors and the cyclic patterns of nature around us.
Another acrylic on canvas work that forms the part of this exhibit is called 'Color Dance.' The artist here uses fiery hues such as bold oranges and reds. The flaming shades make one wonder if it is a fire or a flame or perhaps just the magical colors of nature brought on canvas.
The artist with her array of works displaying soft and bold hues depicts the magic that the season of fall brings along. Her works are a culmination of happy emotions that such surreal seasonal variations impart on our souls. While we love the endless summer sun and the warmth that comes along, the fact that fall dresses the nature in hues so intense makes one look forward to the season with rapt fondness.
About the artist:
Sujata Tibrewala, a self-taught artist come engineer remarkably embodies the indomitable spirit of human existence through her works. Her works, center around the theme of eco-feminism. She has exhibited her artworks in some of the most reputed venues around the globe such as University of Illinois, Chicago, Raw San Jose, Parallax Art Fair London, the Regional Commission of Arts St Louis, Life Force Arts Chicago, Mindworks Gallery Chesterfield, St. Louis Artists' Guild, Chesterfield Arts, Art World Association, Women's Caucus for the Arts, MySLART and Lalit Kala Academy, Delhi. She moved to the USA in 2010 from India and practices her art form at the Bay Area, CA, where she resides presently.