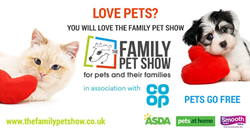 The only pet show that caters for the whole family!
London, UK (PRWEB UK) 22 September 2016
Katzenworld has teamed up with The Family Pet Show in Manchester to offer fabulous cat items and cat advice at the Family Pet Show.
Katzenworld will have a stall in the dedicated Cat Zone, you'll be able to find them at Stand C15 where they will be offering some of their new Katzenworld Merchandise as well as 4Cats toys and much much more.
The Cat Zone is packed full with stuff for cat lovers this year from places like Katzenworld offering items for pets and owners alike to the tips and advice around cat health, grooming and general care!
The show is set to have more than 15000 people attending this year and cat lovers amongst them will even have a chance to meet James Bowen and Street Cat Bob up close! James and Bob will be at the show on the Saturday for a book signing event.
Additionally the Cat Fanciers Association (the worlds largest registry of pedigreed cats) is holding a CFA Cat Show for both pedigree and household cats.
If one thinks that their cat is a gorgeous hunk of purr or an elegant diva, now is the time to prove it. Enter Cat World to be a part of the show! However visitors are advised to check out their advice on if a cat is suitable for this kind of activity on the dedicated the Family Pet Show CAT World page. This is also where you can find the entrance form.
Entering the CFA cat show gives people and their cats full access to the pet show without having to pay additional fees as this is covered by the CFA cat show fee.
The show is called "The Family Pet Show" as d pet guardians are allowed to bring along their fur-family at no extra cost!
Additionally Katzenworld is hosting a giveaway for a family ticket to the show, giving 2 adults and 2 kids free access to the show. Full details on how to enter the competition can be found on Katzenworld.
About Katzenworld:
Katzenworld is an online cat magazine working on providing cat owners and cat lovers with their number one source for:
-Insight on cat care
-Top cat events
-Cat Cafes
-Cat products
They've also recently re-launched their online shop containing some of the best cat toys and other purrfect products for cat lovers!