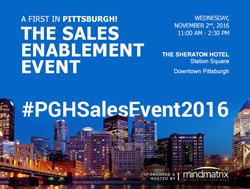 We're excited to have this event in Pittsburgh that brings sales & marketing leaders come together to discuss the best practices and on-going challenges in marketing and how to overcome them
Pittsburgh, PA (PRWEB) September 21, 2016
Mindmatrix announced today that it will be sponsoring and hosting the first ever sales enablement event in Pittsburgh. The Pittsburgh Sales Enablement Event 2016 will be held on Wednesday, November 2nd, 2016 at The Sheraton Pittsburgh Hotel at Station Square. The event will be held between 11:00 am and 2.30 pm and includes a complimentary lunch.
The critical topic of discussion at the event will be about the maximization of revenue generation through direct and indirect sales channels. Presentations will touch upon how companies can drive sales by aligning their sales and marketing better and how they can benefit from having a repeatable, guided sales process in place.
The event targets CMOs, CXOs, CEOs, Directors and VPs who are in charge of sales, marketing, and/or operations at both the direct and the channel level.
Peter Ostrow, Research Director, Sales Enablement Strategies, SiriusDecisions will be the keynote speaker at the event. Peter capitalizes on 20+ years of revenue growth leadership in sales enablement, sales talent management, and operational expertise. In addition, Mindmatrix is bringing in 4 leading industry experts to present at the event. They are: Jarrod Upton, VP, Guidance and Financial Planning, United Capital; Greg Gendron, VP, Marketing, Black Box Network Services; Shannon Greg, Director of Sales Operations, Teletracking Technologies and Gus Vasilakis, VP of Sales, Ciena
Speaking of the Sales Enablement Event, Harbinder Khera, CEO, Mindmatrix, said, "We're excited to have this event in Pittsburgh that brings sales & marketing leaders come together to discuss the best practices and on-going challenges in marketing and how to overcome them. This event will help companies align sales and drive focus on revenue generation through direct and indirect channels."
Register here to get complimentary passes for for the #PGHSalesEvent2016.