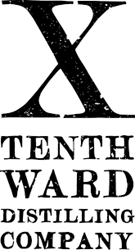 Frederick, Maryland (PRWEB) September 22, 2016
Since having opened its doors in early July, Tenth Ward Distilling sold out of product virtually every weekend in the month of July. In preparation for a busy fall and holiday season, Tenth Ward has a number of announcements, events and new product releases. The first announcement being that Tenth Ward is offering tours to press members, writers, food bloggers, etc – along with a guest or other staff members.
Tenth Ward will launch two upcoming products in the fall. The first is a liqueur called "Citrine". Citrine's base is an un-aged apple brandy made from distilled McCutcheon's cider. It is cut to proof using McCutcheon's cider (instead of water) and infused with honey, cardamom, vanilla, allspice, almond, apple peel, chamomile and sweet woodruff. Citrine will be released in early October. Secondly is Tenth Ward's Applejack, a traditional American style brandy made from distilled McCutcheon's cider and aged in used bourbon barrels with toasted applewood in the barrels. The Applejack will be released mid-November. Product release dates will be announced the week of to email subscribers and social media followers.
See below for upcoming events and announcements:

Tenth Ward is a part of the Frederick Area Distillery Association (#frederickdistilleries) and the Maryland Distillers Guild (#marylandspirits). More information about distilleries in Frederick or in the state of Maryland can be found at http://marylandspirits.org/.