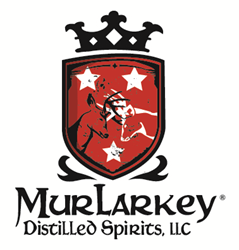 Winning in two categories was certainly a pleasant surprise and a proud achievement for the MurLarkey team. - MurLarkey CEO Tom Murray
Bristow, Virginia (PRWEB) September 22, 2016
In June 2016, MurLarkey® Distilled Spirits was awarded a silver medal in American Corn Whiskey and a bronze medal in Potato Vodka categories at the 2016 Distilled San Diego Spirit & Cocktail Festival.
MurLarkey's spirits were judged against hundreds of competitors from around the world, including well-known brands such as Crown Royal and Bulleit. The competition offered participating distillers unbiased, third-party feedback and recognition for those producing the finest quality spirits. All spirits were evaluated by professional judges in a closed, blind tasting session.
"Being our first competition, we were not sure what to expect. Winning in two categories was certainly a pleasant surprise and a proud achievement for the MurLarkey team," said MurLarkey CEO Tom Murray. The international competition drew more than 100 entries. With festival popularity growing each year, San Diego is becoming an epicenter for craft distilled spirits, and the competition, one of the most respected in the U.S.
The MurLarkey distillery, located in Bristow, Va., is open for tastings five days per week. Their spirits, proudly served at dozens of restaurants and bars throughout Virginia and Washington DC, can also be found in over 50 VA ABC stores throughout the state. Founders Tom Murray and Mike Larkin, along with General Manager Jim Larkin, Head Distiller Jesse Puckett, and the whole MurLarkey team, remain committed to true small-batch, craft spirit production and quality while expanding distribution in the U.S. and abroad.
About MurLarkey
Starting with a meager 23 gallon copper still, second generation Irish-American cousins Tom Murray and Mike Larkin, along with a small team of family and friends, began distilling high-quality, small-batch spirits. Using only the finest, all-natural ingredients, MurLarkey spirits are produced to uncompromising standards. Distilled to perfection, packaged with pride and delivered with cheer, MurLarkey embodies the Founders' heritage, culture and love for life.
MurLarkey is an American Distilling Institute (ADI) Certified Craft Distilled Spirit producer.