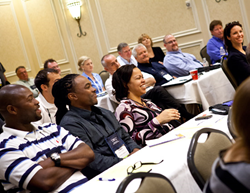 Participants include many major chemical, oil and gas, and energy companies as well as the contractors that serve them.
Baton Rouge, Louisiana (PRWEB) September 22, 2016
The eighth annual Louisiana Governor's Safety & Health Conference, produced by the Alliance Safety Council, provides a collective venue for information sharing, networking and learning. This conference will take place Oct. 3-4 at the Crowne Plaza Hotel in Baton Rouge.
The event kicks off on Monday with the always popular OSHA update given by OSHA Area Director Dorinda Folse. The discussion provides timely information to help organizations avoid costly citations and incidents that take an even more costly human toll.
This year's keynote speaker is Bob Anderson of Leading Challenges. His presentation will focus on emotional intelligence, which involves the ability to recognize and understand your own emotions and the emotions of others. Anderson believes these skills can increase professional performances and enhance personal lives.
There will be a lunch session on Tuesday with a panel of business owners who will discuss disasters that have impacted their businesses and tested their business continuity plans. Conference attendees will take away valuable information about how to recover from an active shooting, fire or flood.
Other conference speakers include Shell's Joe Tudor who will discuss the dangers of excessive noise exposure. Tudor will address how you should educate your workers on the impact of off-the-job noise. Risks associated with vector borne diseases brought on by mosquitos and ticks will be highlighted as well. This session by Jamey Westbrook of R&R Lotion will focus on proper prevention, EPA regulations and the active ingredients in insect repellents.
Organized by a volunteer planning committee of industry leaders and spearheaded by Alliance Safety Council, the conference attracts professionals from a variety of sectors: chemical, construction, emergency and environmental management, fire, health care, human resources, insurance, industrial hygiene, nursing, security, transportation, utilities, and municipalities and public employers. Attendees hold positions such as safety director/manager, security manager, human resources director, production supervisor, HS&E manager and training supervisor. Participants include many major chemical, oil and gas, and energy companies as well as the contractors that serve them.
The expo hall is open to the general public at no charge, and registration discounts are offered to Alliance partner organizations interested in the full conference experience.
For more information and to register, visit Louisiana Governor's Safety and Health Conference or call (225) 766-0955.
Alliance Safety Council is a member-driven association providing online and instructor-led safety training and related services for the metro Baton Rouge area as well as nationwide. Alliance has delivered 700,000-plus training units and trained 180,000 students annually from every state in the U.S., as well as internationally. Available training includes highly acclaimed programs such as Certified Occupational Safety Specialist® (COSS), Certificate for Occupational Safety Managers (COSM), Safe Supervisor™ and PowerSafe™. Alliance, in a consortium with Louisiana State University's College of Engineering, also offers OSHA training as the Mid-South OSHA Training Institute Education Center. For more information, visit alliancesafetycouncil.org.