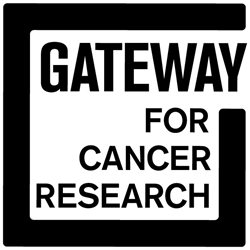 "I've been a long-time supporter of Gateway because the organization chooses clinical trials that will make the greatest impact in improving the quality of life in patients," said Jim Gordon, Founder & Managing Partner, The Edgewater Funds.
Schaumburg, Ill. (PRWEB) September 22, 2016
Gateway for Cancer Research, a non-profit dedicated to funding transformational cancer research, will recognize its 25th anniversary by hosting its annual Cures Gala, "The Great Gateway: 25 Years of Illuminating the Way to Cures," on Saturday, October 15 in the Aon Grand Ballroom at Navy Pier in Chicago.
During the Gala, Gateway's mission and history of helping enroll more than 3,000 patients in over 140 clinical trials at esteemed institutions worldwide will be highlighted. Proceeds from the event will help support Phase I and Phase II trials across cancer types, including breast, blood and lung cancers.
In addition to learning about the success of the organization, guests will enjoy can't-miss performances by David Foster and Friends. This includes the 16-time Grammy-winner® David Foster, in addition to Grammy-winning artist Michael Bolton, stand-up comedian Sinbad, platinum-selling artists The Tenors and Rock and Roll Hall of Fame Inductee Peter Cetera.
Guests will also enjoy a custom retro "Gatsby-inspired" menu designed by renowned Chef Markus Ford, premium signature cocktails and an evening of star-studded entertainment. A silent auction and live paddle raise bidding will give attendees the opportunity to donate at the level of their choice to continue the quest for a cure. Individual tickets to the event are $1,000 and guests can also select higher level sponsorships with deluxe VIP packages.
Since Gateway was founded 25 years ago, the organization has made a significant impact on cancer treatment and research, and invests in pioneering, innovative clinical trials leading to cancer research breakthroughs. Some of Gateway's currently funded cancer research trials include:

Seventeen blood cancer trials
Breast cancer trials at nine institutions worldwide
Five pancreatic cancer trials
Lung cancer trials at five institutions
"Our mission instills a sense of urgency to accelerate the pace of cancer research," said Teresa Hall Bartels, president, Gateway for Cancer Research. "Our dedication to investing heavily in novel patient-centric approaches, combined with the increasing rate of treatment advances, leads us to believe that together we can conquer cancer in our lifetime."
The Gala will showcase Gateway's significant impact by highlighting its 56 trials currently underway at leading worldwide institutions, including a brain cancer trial led by Dr. Sarah Leary from Seattle Children's Hospital. Dr. Leary is conducting innovative research with children undergoing brain surgery utilizing "Tumor Paint," which acts like a molecular flashlight for surgeons. This revolutionary drug is given the day before surgery and attaches to the tumor tissue to glow under fluorescent light so doctors can pinpoint the cancerous cells during surgery. It has transformed the way surgery for brain tumors is done, since complete removal cannot always be achieved safely because it is often difficult to distinguish normal brain tissue from tumor tissue with the naked eye.
Samantha McDermott, the parent of one-year old Wes who is currently in Dr. Leary's trial, will attend the Gala to speak about how the clinical trial was life-changing.
Other Gateway-funded breakthroughs being showcased during the Gala through patient video vignettes include:
Blood Cancer: Dr. Sung Choi, University of Michigan, is testing an approved anticancer drug that will reduce graft-versus-host disease in bone marrow transplant patients. Dr. Choi's patient Jeff Dufore will be featured speaking about his involvement in the trial.
Breast Cancer: Dr. Rebecca Aft, Washington University, is analyzing the effects of Herceptin on survival in breast cancer patients. Patient Marilynn Hooks will share her experience.
Pancreatic Cancer: Dr. Joseph Cullen, University of Iowa College of Medicine, is identifying ways to make cancer cells more vulnerable to radiation therapy for patients with inoperable pancreatic tumors by using pharmacological ascorbate during concurrent radiation therapy. Patient Susan Wells will share her personal testimonial.
Lung Cancer: Patients have reported significant quality of life changes, commenting it is now easier to breathe and they are more hopeful for better days ahead after partaking in Dr. Richard Pietras' clinical trial at UCLA Jonsson Comprehensive Cancer Center. Dr. Pietras' trial is a combination of an aromatase inhibitor and carboplatin-based therapy for women with advanced non-small cell lung cancer.
"I've been a long-time supporter of Gateway because the organization chooses clinical trials that will make the greatest impact in improving the quality of life in patients," said Jim Gordon, Founder & Managing Partner, The Edgewater Funds. "As the organization continues its ongoing charge to fund cancer research and develop new treatments, I'm confident knowing my contribution is helping uncover new breakthroughs and gives patients the hope and support to conquer cancer."
Gateway's Associates Board, consisting of young professionals in the Chicago area and beyond, is hosting its "Be A Hero" event on Friday, October 14, to increase awareness of Gateway within their networks and raise funds for cancer research. The event is at the Sheraton Chicago Hotel from 7:30 p.m. to midnight.
###
About Gateway for Cancer Research℠
Gateway for Cancer Research is a nonprofit 501(c)(3) organization committed to funding innovative cancer research that helps people with cancer to feel better, live longer and conquer cancer TODAY! Thanks to generous underwriting, 99 cents of every dollar Gateway receives directly funds Phase I and Phase II cancer clinical trials at leading research institutions across the country and abroad. Since 1991, Gateway has supported more than 140 clinical trials and funded millions in breakthrough research. Get involved today by visiting http://www.GatewayCR.org, like us on Facebook at facebook.com/demandcures and join the conversation on Twitter @DemandCures, #BeAGateway.