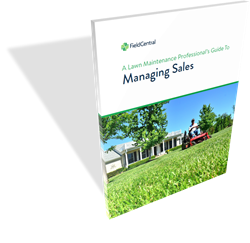 (PRWEB) October 04, 2016
HindSite Software, the premier provider of lawn maintenance software, recently released an eBook detailing the steps and processes which lead to high growth in sales. Lawn maintenance businesses not only face extensive competition in most markets, they also face difficulty within their own organizations. Managing the entire sales process from start to finish can become challenging for a growing business.
A Lawn Maintenance Professional's Guide to Managing Sales is a detailed guide designed to improve the areas in which most businesses struggle. Many green industry businesses rely on only one or two people to sell their services. Because of that, prospective sales might go without the proper attention they need in order to become a customer.
"There's a number of moving parts that businesses need to manage," explains HindSite's Marketing Specialist, Taylor Tuomie. "First, lawn maintenance businesses need to find people who they can sell to. They need to then create enough interest for those people. As the number of contacts that they need to manage grows, it gets more and more difficult to manage."
Among the topics covered in the eBook include:
The different forms of lead generation
How to setup and manage a sales pipeline
The components of a strong close
Guide to estimating lawn maintenance jobs
"Since sales is rarely a linear process, there needs to be structure to support it," explains Tuomie. "It can be a little overwhelming trying to track and manage sales. In this eBook, we cover some simple ways to add structure to your sales activities and how it can help your business grow."
The eBook is available for free at this link: http://info.hindsitesoftware.com/a-lawn-maintenance-professionals-guide-to-managing-sales
A Lawn Maintenance Professionals' Guide to Manage Sales is being released in conjunction with HindSite's newest software, FieldCentral. FieldCentral is a cloud based software which helps lawn maintenance businesses manage, monitor, and grow each aspect of their business.
About HindSite Software
HindSite Software has helped lawn maintenance contractors better manage and grow their business with field service software since 2001. HindSite today assists service businesses with scheduling and billing, contact management, field data collection, and invoicing in QuickBooks®, and Sage50®. When used by lawn maintenance businesses, this paperless software has been proven to increase efficiency and organization, meaning greater profit potential with less administrative time.