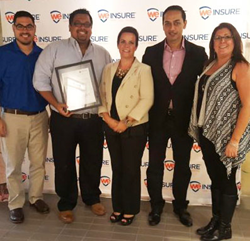 "Heritage Insurance is a strong We Insure Partner" CEO, Philip Visali
Jacksonville, Florida (PRWEB) September 23, 2016
We Insure Group, Inc., a Southeast Regional property/casualty insurance franchise company, was recognized and awarded for binding Heritage Insurance's 1st Florida policy.
Heritage Insurance, a Florida Property and Casualty Insurance company partnered with We Insure in November of 2012. We Insure was honored to offer Heritage home, condo, rental property and commercial residential insurance to our Florida clients. Over the past 4 years, We Insure has become one of Heritages largest agency partners.
We Insure Group, Inc. began franchising operations in 2010, is privately owned by CEO, Philip Visali and currently operates 80+ franchise locations in Florida & Georgia with over 100MIL in sales since opening.
For more information about We Insure as a franchising opportunity, go to http://weinsuregroup.com/franchise
We Insure continues to be a proven & awarded franchise business model.
2013 Company Awards
JBJ 40 Under 40– CEO, Philip Visali
JBJ Largest Independent Agencies in North Florida - #10
JBJ Best Places to Work in North Florida - #4
JBJ Fastest Growing Private Companies in North Florida - #17
2014 Company Awards
JBJ Largest Independent Agencies in North Florida - #7
JBJ Best Places to Work in North Florida - #1
JBJ Fastest Growing Private Companies in North Florida - #10
2015 Company Awards
JBJ Largest Independent Agencies in North Florida - #6
JBJ Best Places to Work in North Florida - #9
JBJ Fastest Growing Private Companies - #9
JBJ Ultimate CEO Award in North Florida– Philip Visali
INC5000 Fastest Growing Private Companies in America - #1272/5000
PRINCIPLE10 Best Employee Financial Security in America
2016 Company Awards
GATOR 100 Fastest Growing Gator-Owned Businesses in the World - #10
101Best & Brightest Winner of Best & Brightest Companies to Work for in the Nation
JBJ Best Places to Work in North Florida - #5
Florida Trends – Best Places to Work in Florida - #23
Business Journal Top 100 Fastest Growing Companies in Florida - #53