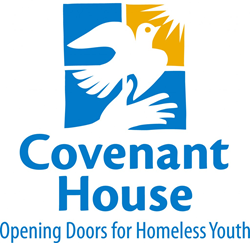 Covenant House Pennsylvania operates in every Philadelphia zip code, first beginning its mission to serve homeless, trafficked, runaway, and at-risk youth in 1999
New York, New York (PRWEB) September 27, 2016
Covenant House proudly opened the Sanctuary Drop-In Center on Monday, September 12, 2016 with the help of Mayor C. Kim Bracey assisting in the ribbon cutting.
At the opening, Covenant House Pennsylvania Executive Director John Ducoff had this to say about York City's commitment to helping homeless youth: "This program would not be possible without the leaders in this community taking ownership of the issue of homeless youth and coming together to make a difference."
"I want to thank Mayor Bracey as well as all our community partners and Covenant House supporters," continued Mr. Ducoff. "This program will be a place where young people will get the help they need to get -- and stay -- off the streets."
The Sanctuary Drop-In Center will provide for the immediate needs of homeless and at-risk youth, including food, clothing, hygiene supplies, and access to showers and laundry facilities. Beyond these services, the program will provide crisis counseling, vocational readiness, educational tutoring and support, life skills education, recreational activities and transportation assistance.
Mayor Bracey commented at the ceremony: "We are proud to be working with Covenant House, our county partners and other service providers in the community to reach out to more of our at-risk youth."
Covenant House Pennsylvania operates in every Philadelphia zip code, first beginning its mission to serve homeless, trafficked, runaway, and at-risk youth in 1999. Since, Covenant House in Pennsylvania has grown to a 51 bed facility which not only offers immediate crisis care to teens and young adults but behavioral health services, education, and job training.
Mr. Ducoff explained more about the drop-in youth facility, located at 307 E. King Street in York City: "We will be able to provide on-site, individual case management. This will allow us to make housing referrals and meet the educational, and vocational needs of each youth, so we can set individual goals and provide ongoing case management. And with the partnerships we've built in the community, we'll be able to refer youths to other service providers for physical and mental health services and substance abuse counseling."
Covenant House International's report earlier this week stated that the organization will open a new program in Berkeley, CA, and will be renovating and expanding the Rights of Passage program in Anchorage, Alaska before the end of this month.
Founded in 1972, Covenant House is one of the largest privately funded agencies in the Americas helping homeless kids, providing 24/7 crisis care and ongoing support in 29 cities across six countries. For more information go to http://www.covenanthouse.org.
Contact Tom Manning
Office: 212-727-4920 / Cell: 845-300-2126