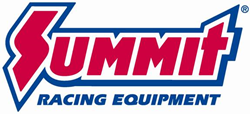 Tallamdge, OH (PRWEB) September 23, 2016
Good news for performance enthusiasts--Summit Racing now carries new products from Chevrolet Performance and Trick Flow Specialties as well as products from Summit Racing's private brand.
Chevrolet Performance Crate Engine Controller Kits
These Engine Controller Kits that take the hassle out of waking up a new Chevrolet Performance LS crate engine. The kits come with a preprogrammed controller wiring harness, mass airflow meter, mass airflow meter mounting boss, accelerator pedal assembly, two oxygen sensors, two oxygen sensor mounting bosses, and the all-important instruction manual.
Trick Flow Specialties Valve Cover Mount Distributor Systems for Ford 4.6L
Trick Flow's Valve Cover Mount Ignition System provides complete and accurate control of a race-prepped Ford 4.6L 2-valve V8's ignition timing. Designed specifically for use with Trick Flow's Twisted Wedge® and Twisted Wedge Track Heat® cylinder heads for the 4.6L 2V, the system features a valve cover-mounted MSD Pro-Billet distributor that is driven off the driver's side camshaft. This provides an adjustable mechanical advance and allows the use of a stand-alone ignition box to control timing.
Summit Racing OEM Replacement Clutch Kits
For folks that have a mildly hopped up street machine, hot rod, or off-roader—or just need a new clutch for their daily driver—a stock replacement clutch will do the job just fine. Summit Racing now offers high quality OEM replacement clutch kits that meet or exceed factory specifications. Best of all, a Summit Racing clutch kit won't cost this month's grocery money. That leaves enthusiasts some extra funds for getting the upgrades they really want.
Summit Racing Equipment
http://www.summitracing.com
1-800-230-3030