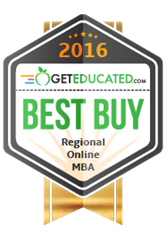 "It's no secret that prospective students are facing rising education costs."
Monterey, VA (PRWEB) September 23, 2016
Eastern New Mexico University, ranked #1 on the GetEducated.com online MBA program rankings with the average student paying $8,030.70 for an online Master of Business Administration. By comparison, the average higher education cost for a regionally-accredited online MBA program in the national survey was $25,869.48.
The GetEducated.com online college rankings report is based on a survey of higher education costs at over 150 regionally accredited universities offering 450+ online MBAs across many MBA specializations.
In all, nearly 100 schools made the Best Buy ranking, each offering below average degree costs. The most expensive online MBA program came in at $64,720, eight times that of the #1 Best Buy, Eastern New Mexico University.
Of the 100 schools on the full report, the top 10 programs are:

Eastern New Mexico University ($8,030.70)
Amberton University ($9,125.00)
Wayne State College ($9,225.00)
Cameron University ($9,405.00 Resident, $12,045.00 Non-Resident)
Lincoln University ($11,010.00 Resident, $19,830.00 Non-Resident)
Tarleton State University ($11,515.00 Resident, $28,746.00 Non-Resident)
Fitchburg State University ($11,610.00)
Chadron State College ($11,700.00)
Patten University ($11,976.00)
Northwest Missouri State University ($13,166.00 Resident, $21,510.06 Non-Resident)
"It's no secret that prospective students are facing rising education costs." says Tony Huffman, President of GetEducated.com. "Our research provides the full spectrum of costs across all schools offering online MBAs so the student can Get Educated before they enroll."
Browse hundreds of online MBA degrees at GetEducated.com.
ABOUT: Founded in 1989, GetEducated.com is a consumer group that publishes objective rankings of the best online colleges and degrees.