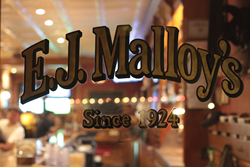 We thank the Long Beach community and surrounding areas for 15 years of support. Come party with us Saturday! - Brent Brakebill
Long Beach, CA (PRWEB) September 22, 2016
15th Anniversary Party 9/24 from 6 pm to 10 pm
4306 Atlantic Avenue
Long Beach, CA 90807
Party Includes:
Food and Drink Specials
Neighborhood Scavenger Hunt (3pm to 6pm)
Silent Auction for Local Charities: For the Child, LB Shakespeare Co., Ronald McDonald House. (Auction ends at 9pm)
Music by Kelly Fritzgerald
Anniversary tshirts for sale
HISTORY:
In 1865, Elias Jeremy Malloy was born in Dunleer, Ireland, a cow ridden but picturesque hamlet outside Dublin. After 20 years of sweat and toil, Elias and his bonny wife Colleen left their cows and ventured forth to make their fortune in the new world. They braved a long journey across stormy oceans, through the chaos of Ellis Island and over rough American plains before finally dropping anchor in Long Beach, California. One decade and nine children later, EJ and Colleen finally found their pot of gold by doing something they loved…pleasing friends with their hospitality, hearty cooking, heavenly brews and annual "Shamrock Shenanigan festival" with the same perseverance and hard work of ten years before, EJ Malloy's was created.
Proprietor Brent Brakebill managed to restore EJ Malloy's to a reasonable semblance of its former Gaelic beauty, with a few minor conveniences like water closets, moving pictures, and telephones. In 1990, he opened the 3411 E. Broadway location in Belmont Heights. In September 2001 our second location was opened in Bixby Knolls on Atlantic Avenue and in 2014 our third location will open on Britton Drive in the Los Altos neighborhood. Twenty four years later, EJ's is honored to be known as Long Beach's neighborhood pub.
At EJ Malloy's, we promise that the stools will always rise to meet you, the sun will always shine in your mug and the winds will always bring you back. Visit our Facebook Event Page https://www.facebook.com/events/1663697953946648/ or call 562-424-5000 for more information!