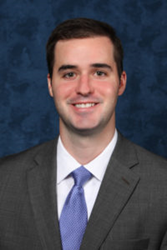 When growing our team, we look for talented attorneys who can help us deliver the high quality legal work our clients are accustomed to, and we're confident Kent will do just that.
Addison, Texas (PRWEB) September 21, 2016
Hiersche, Hayward, Drakeley & Urbach, P.C. is pleased to announce that Kent Love has joined the firm. Pending his bar results, Kent will be practicing with the Commercial Litigation Group in the firm's Addison office.
Kent earned his Juris Doctor in 2016 from SMU Dedman School of Law, where he received the prestigious Hutchison Scholarship. He was elected to the Order of the Coif and served as Articles Editor for the SMU Law Review. While in law school, Kent worked as a summer associate at both a business litigation firm and a large plaintiffs' firm. He also served as a judicial intern with the Honorable Jeffrey Rosenfield of the Dallas County Criminal Court of Appeals No. 2.
"We are pleased to welcome Kent to the HHDU team. He will be a great asset to our Commercial Litigation Group," said Bill Hayward, a founder of the firm. "When growing our team, we look for talented attorneys who can help us deliver the high quality legal work our clients are accustomed to, and we're confident Kent will do just that."
Hiersche, Hayward, Drakeley & Urbach, P.C. is a full-service commercial law firm located in Addison, Texas. Their attorneys provide legal representation in a broad range of practice areas, including complex commercial litigation, business, real estate, mergers and acquisitions, executive employment representation, insurance defense, intellectual property, bankruptcy, creditor's rights, taxation, and estate planning. For more information, visit the firm's website at http://www.hhdulaw.com