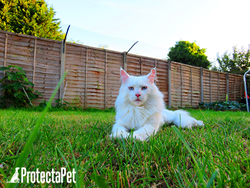 In the UK alone, 1,900 gardens have been cat proofed with this British designed and manufactured technology; many multi-cat households. ProtectaPet's products have prevented premature death for 1000s of cats and at least 76,000 prey victims.
Stoke-on-Trent, UK (PRWEB UK) 21 September 2016
Dr Peter Marra, author of Cat Wars, claims that 8.1 million cats kill 275 million items of prey every year in the UK. He calls for cats to be kept exclusively indoors and only allowed outside on a lead or in a 'catio'. Based on these statistics, it is estimated that for every cat kept within the limits of a garden or patio - with a reduced territory in which to hunt - approximately 40 prey victims such as small mammals and birds are protected each year.
Simon Davies, Product Designer at ProtectaPet, says 'The benefits of cat containment for pet owners are obvious: no 3am patrols of the neighbourhood in search of a cat who didn't check in for tea, no shock vet bills after a run-in with the neighbourhood Tom, and no concerns about the cat's quality of life as they are left to stalk, sunbathe and play outdoors at their leisure. It is becoming clearer that there are the huge benefits to the protection of native British wildlife too.'
Eve Davies, Communications Director at ProtectaPet, says 'Cat fencing has potentially saved 76,000 prey victims from the claws of a cat. With loss of habitat being the number one cause of extinction for small mammals and birds in the UK, it is important that the UK as a nation addresses anything that can be done to support and promote native species. Cat containment is an easy solution to cat predation with overwhelming benefits.'
Stephanie Watson of WebMD shows that the average life expectancy of a free-roaming cat is 2 to 5 years while indoor cats can expect to live to 17 or more years of age. But there are concerns about whether indoor cats can express natural behaviours such as 'climbing, exploring, roaming their territory and communicating with other cats in the area.'
ProtectaPet's cat containment solution limits a cat's territory to their house and garden with the addition of a cat barrier which neatly fits to the top of walls and fences. Controlling a cats' territory prevents exposure to risks such as road traffic accidents, theft, disease, territorial disputes and injuries caused by fights with neighbourhood cats.
The ProtectaPet Installation Team fit approximately 8 cat containment systems a week while the Online Shop dispatches the same number of Kits for DIY enthusiasts to fit themselves. In the UK alone, approximately 1,900 gardens have been cat proofed with this British designed and manufactured technology. Many of these are multi-cat households. Therefore, since the company was incorporated in 2014, ProtectaPet's innovative products have saved 1000s of cats from premature death.
ProtectaPet are the leading cat containment experts providing cat proof fencing and cat enclosures . They provide multiple solutions designed to keep cats safe and have been voted 'Cat Product I Can't Live Without' two years running by readers of 'Your Cat' Magazine. They are shortlisted for four PetQuip Awards, including 'product of the Year', the result of which will be announced on Sunday 25th September.
Please direct all media enquiries to Eve Davies, info(at)protectapet(dot)com and visit http://protectapet.com for further information.