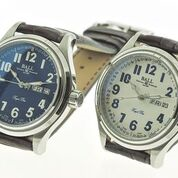 St. Petersburg, Florida (PRWEB) September 23, 2016
Jeffrey Hess, CEO, BALL Watch USA, stated. "It is highly appropriate for BALL Watch to do this. The B & O Museum, a Smithsonian affiliate, hosts a collection of historic BALL timepieces, and founder Webster Ball was a pioneer in rationalizing timekeeping for American railroads. Today we honor him and the Baltimore & Ohio Railroad with this new timepiece."
A portion of the Royal Blue's sales will support the B&O Museum, according to Courtney B. Wilson, Executive Director. "The partnership between Ball Watch USA and the Museum bring the rich history of railroad time-keeping into the 21st century through America's most historic railroad, the B&O."
The BALL Trainmaster B & O Royal Blue is a high-quality Swiss-made timepiece built on the respected SW220-1 COSC automatic mechanical movement, providing accuracy under adverse conditions such as those encountered by railroaders in the 1800s and 1900s. The Royal Blue is designed to meet the Official Railroad Standards set by Webster C. Ball in 1891, while offering a stylish and affordable timepiece to railroad buffs and watch lovers alike.
About BALL Watch Company
Since 1891, BALL Watch Company has been producing timepieces that comply with the most stringent criteria for precision, quality and reliability. As a pioneer of chronometry standards and with a rich past closely associated with the history of the American railroads and today, as well as all aspects of aviation and maritime, BALL Watch remains one of the most respected and well established watch brands in the United States. Today, more than ever, BALL Watch is continuing its journey and asserting its role as a key protagonist in the evolution of watchmaking history. For more information regarding BALL Watch Company and its products worldwide, please visit http://www.ballwatch.com.
For more information contact:
Tony Wasserman
SVP Sales & Marketing
tony(at)ballwatchusa(dot)com
727-896-4278