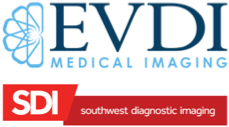 As diagnostic imaging continues to evolve, EVDI is committed to ensuring our patients' needs come first.
PHOENIX (PRWEB) September 22, 2016
EVDI Medical Imaging (EVDI), a leading diagnostic imaging provider based in the East Valley, today announced the addition of two radiologists to its team of more than 35 doctors.
EVDI's steady growth in recent years is on par with that of the medical imaging industry, which according to a recent study is expected to be up 16 percent from 2015. Radiology job opportunities have been on the rise since 2013, largely due to emerging technology and increased diagnostic needs of the aging baby boomer generation.
"As diagnostic imaging continues to evolve, EVDI is committed to ensuring our patients' needs come first. We are focused on incorporating the latest technologies and expanding our team with leading radiologists such as Dr. David Melville and Dr. Michael Rozenfeld, who are highly trained in patient care and dedicated to both their craft and the community they serve," said Marvin K. Tam, M.D., EVDI Medical Imaging.
Dr. Melville and Dr. Rozenfeld bring prestigious backgrounds and experience in musculoskeletal radiology and neuroradiology. They have received a combined 18 awards for their outstanding work in their fellowships and current practices. As members of a variety of respected professional organizations such as the American College of Radiology and Radiological Society of America, they have earned educational certificates, as well as worked to advance the medical imaging profession with their leadership and expertise. Additional information about the new doctors:
David Melville, M.D., Musculoskeletal Radiology
Melville joins EVDI from the University of Arizona where he was an assistant professor in the Department of Medical Imaging, Division of Musculoskeletal Imaging. Prior to his work at the University of Arizona, Melville worked as an emergency department radiologist at the University of Michigan. As a professor and recent recipient of the Teacher of the Year George R. Barnes Award, Melville is dedicated to furthering musculoskeletal radiology education. He has mentored eight radiologists and been published more than 15 times.
Michael Rozenfeld, D.O., Neuroradiology
A graduate of Northwestern University, Rozenfeld completed his fellowship in pediatric neuroradiology at Ann and Robert H. Lurie Children's Hospital of Chicago. Rozenfeld has given more than 12 presentations to the American Society of Neuroradiology, Chicago Radiological Society and Society of Interventional Radiology. He is currently a member of four professional radiology organizations and is passionate about exploring new techniques for diffusing pediatric brain tumors.
To learn more about EVDI or to view current career opportunities, please visit EVDI.com or follow us on Facebook.
About EVDI Medical Imaging
EVDI Medical Imaging (EVDI) has been providing diagnostic imaging services to Phoenix's East Valley communities since 1989 and is an affiliate of Southwest Diagnostic Imaging (SDI). Owned and operated by its more than 35 highly specialized and board-certified radiologists, EVDI provides a variety of health care services including x-ray, ultrasound, breast imaging, CT and MRI procedures. Locations include Chandler, Mesa, Gilbert and Tempe, as well as two Desert Breast Centers in Mesa. For additional information about EVDI, to find a location or request an appointment, please visit EVDI.com, follow us on Facebook or call 480-545-9779.