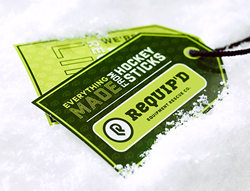 "We designed an identity and created packaging worthy of the bigger mission to reduce waste and help the environment."
San Francisco, California (PRWEB) September 23, 2016
DDW San Francisco, a leader in sustainable packaging design, recently teamed up with a new player in the sustainability world: Requip'd – The Equipment Rescue Company.
The "upcycling" concept was the brainchild of Requip'd founder John Ufland and Eric Bourgoujian. As part of John's weekly ritual of playing hockey in a Los Angeles based men's beer league, Ufland saw how many broken sticks were piling up and heading to landfills. Ufland and Bourgoujian saw an opportunity to give them a second life by repurposing them into functional products like BBQ tools and golf putters. And the Requip'd concept was born.
"Once people saw what we were doing, the idea took off. Every team wanted to recycle their sticks and sell the BBQ tools in their team store," said Ufland as he pointed to the ice scrapers, golf putters and brooms that they now make.
Partnering with teams and manufacturers around North America, Requip'd began upcycling thousands of hockey sticks into unique, high quality BBQ sets. The Requip'd product line has grown to include other must have products for hockey players, and fans. The story continues to grow as Requip'd is now expanding their "green" solution to other sports, including baseball and lacrosse.
Ufland enlisted the help of fellow beer leaguer Ross Patrick, Executive Creative Director of DDW, a branding and packaging design firm in San Francisco. "Our team came up with the name Requip'd to allow the brand to expand beyond hockey, while putting their mission front and center," said Ross Patrick of DDW SF. "We gave a nod to hockey in the brand mark we designed and created packaging worthy of the bigger mission of doing something to reduce waste and help the environment. It was fun to rename and rebrand the company as we knew that this was a smart, sustainable company that was going to expand and develop tons of new products," Patrick added. "The possibilities are limitless".
To date, Requip'd has recycled over 40,000 hockey sticks and represents almost every team in the NHL as well as AHL, Junior and college teams in the US and Canada. And DDW's brand identity design was recently recognized with a 2016 American Graphic Design Award.
"As more brands begin to think about the future of sustainability, upcycling is one of the smartest ways to address the issue," said Mike Goefft Managing Director of DDW. DDW's previous sustainability efforts for Sprint resulted in a glue-free kraft box with soy inks, water-based coatings, and no plastic whatsoever. This was followed by a life cycle assessment company to measure the magnitude of these improvements with impressive results. "Sprint's sustainable packaging turned out to be an effective way to connect with customers," said Goefft. "It also put Sprint on Newsweek's Top 500 Greenest Companies two years in a row, and earned DDW a couple of design awards as well — including the American Graphic Design & Advertising's "Best of Category" Award and the Creativity International Award for "Best Green Packaging."
About DDW
DDW (http://www.ddw.com) is a San Francisco based design firm with 20+ years experience helping clients create deep brand stories and fresh brand design. Current clients include Amazon, Anheuser-Busch, Alcatel, Big Heart Pet Brands, Campbell's, Sprint, Seattle's Best Coffee, The Men's Wearhouse, and The Non-GMO Project and several other undisclosed assignments.