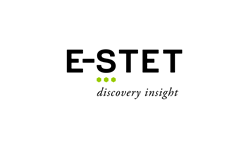 We truly believe that excellent client service starts with happy employees, and we've done a lot to encourage this culture in the past few years
Los Angeles, CA (PRWEB) September 22, 2016
The Los Angeles Business Journal (LABJ) recently named E-STET, an eDiscovery and legal technology provider, to its 2016 Best Places to Work list for the third year. The award highlights E-STET's commitment to employee satisfaction as part of its strategy to provide excellent client service.
"We are honored to be recognized by the LABJ as one of the best places to work in Los Angeles," said E-STET CEO Thomas Hegelund. "Our employees are our most important asset and their satisfaction is a key driver for the company's growth."
E-STET recently moved its headquarters to the up-and-coming South Park area of Downtown Los Angeles. The new open office space was designed to encourage employee cooperation, teamwork, and well being. The set-up includes ergonomic standing desks, large windows with natural light, and a communal kitchen space stocked with healthy snacks. Everyone, including the company's leadership, sits in the open-office space, which contributes to the company's spirit of collaboration and transparency.
"This award highlights our steadfast commitment to employee satisfaction," said Chief Strategy Officer Aria Safar. "We truly believe that excellent client service starts with happy employees, and we've done a lot to encourage this culture in the past few years, offering benefits such as company retreats and tuition reimbursement."
In addition to its focus on employee well being, E-STET has also made commitments to diversity in its hiring and retention practices. E-STET has been certified by the State of California as a minority-owned business.
"We see the strong business case for diversity, and also think it's our moral prerogative. E-STET has made commitments to maintain a diverse and gender-balanced workplace," added Safar.
To be considered for the Best Places to Work award, companies must participate in a two-part survey, including the Employer Benefits and Policies Questionnaire, and the Employee Engagement and Satisfaction Survey.
The results from the survey were analyzed and categorized according to 8 core focus areas:
1. Leadership and Planning
2. Corporate Culture and Communications
3. Role Satisfaction
4. Work Environment
5. Relationship with Supervisor
6. Training, Development and Resources
7. Pay and Benefits
8. Overall Engagement
Full rankings were published in the August 22, 2016 issue of the LABJ. For more information, please visit http://www.bestplacestoworkla.com.
About E-STET
E-STET is a California-based legal technology company making the practice of law more efficient through technology and innovative business solutions for corporations, AmLaw 100 law firms, and government agencies. Founded in 2007, E-STET's cutting-edge team of lawyers and computer engineers enjoys pushing the legal tech envelope for its clients with next-generation technology and service offerings. E-STET has been on Inc. Magazine's 5000 fastest growing companies in America list for four years in a row, and on Deloitte's Fast 500 list of fastest growing technology companies in North America. Email E-STET at contact(at)e-stet(dot)com or visit http://www.e-stet.com for more information.