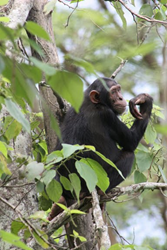 Their innovative approach to conservation ensures a future that is healthy for humans, the environment and chimpanzees
Oakland, CA (PRWEB) September 21, 2016
On Wednesday, October 5, 2016 from 6:30pm to 9:00pm, Oakland Zoo welcomes the public to an evening celebrating primates. Highlights of the night will include a silent auction that includes exclusive, behind-the-scenes experiences at Oakland Zoo, food and wine, and a presentation by primate expert Rosamira Guillen, Executive Director of Proyecto Titi in Columbia.
All proceeds from this annual event will be donated to the Budongo Snare Removal Project in Uganda, co-founded by the Jane Goodall Institute in 2001. The project focuses on saving chimpanzees of the Budongo forest by removing deadly snares set by poachers that maim or kill the thousands of chimpanzees. Oakland Zoo has served as sole-funder of the project since it's creation and has donated more than $200,000 to support its efforts. Funds are used to provide salaries for four field assistants, two educators, two eco-guards, transportation, necessary gear, and livestock as a source of alternative income for former poachers.
"We are so proud of the work of the Budongo Snare Removal Project. Their innovative approach to conservation ensures a future that is healthy for humans, the environment and chimpanzees," said Amy Gotliffe, Conservation Director at Oakland Zoo.
According to conservationists, chimpanzees are endangered worldwide: There was a time when more than one million chimpanzees used to live in the forests of at least twenty-five countries in Africa. Since the 1960s, the figure has dropped to as low as 150,000 residing in only six countries, making chimpanzees an endangered species per the IUCN.
"Thank you to all of you over there in Oakland and the Bay Area," said Vernon Reynolds, Founder of the Budongo Field Station. "You do so much each year; you work so hard to help our project and the snare removal scheme we run every single day of the year. We remove snares from the forest and by supporting us, you save the lives of our chimps, and stop them getting serious injuries to hands and feet. That is so worthwhile! You also support our goat scheme, which is a bargain between us and the hunters – we give them goats and they stop putting snares in the forest. This truly helps the people of this region and offers them a livelihood they can be proud of. Again, you are saving our chimps from a life of misery, and helping people, as well. That is real conservation."
The evening will also feature a presentation about the critically endangered Cotton-top tamarin, one of the world's smallest primates. Guest speaker Rosamira Guillen is a primate expert and Executive Director of Proyecto Titi, a Colombian based conservation organization dedicated to the Cotton-top tamarin. Because of their critically endangered status, two of four resident Cotton-top tamarins at Oakland Zoo are part of the SSP (Species Survival Program), in hopes they reproduce to help ensure the survival of their species in AZA (Association of Zoos & Aquariums) accredited zoos. Tickets to the evening event are $12 – 20, sliding scale.
In addition to the benefit the evening of October 5, a daytime celebration will take place on Saturday, September 24 at Oakland Zoo during regular zoo hours: 10AM to 3PM. Games, activities, education stations will be set up throughout the zoo and tickets to a special, behind-the-scenes baboon enrichment-making experience are available.
For additional information about the "Discovering Primates" evening or day event, please contact Kyla Balfour, Conservation Specialist at kbalfour@oaklandzoo.org
About The Budongo Snare Removal Project:
Oakland Zoo adopted the Budongo Snare Removal Project in 2001 and the Zoo's support covers salaries for four field assistants, two educators, two eco-guards, the nanny goat program, and allowances for transportation, bike repair, gum boots, rain gear, backpacks, and compasses. Oakland Zoo is the sole supporter of this project and is proud of this unique conservation program, which shows compassion and respect for chimpanzees, people and the entire ecosystem. This project serves as a model for others facing the growing challenges around human-wildlife conflict.
About Oakland Zoo:
The Bay Area's award-winning Oakland Zoo is home to more than 660 native and exotic animals. The Zoo offers many educational programs and kid's activities perfect for science field trips, family day trips and exciting birthday parties. Oakland Zoo is dedicated to the humane treatment of animals and wildlife conservation onsite and worldwide; with 25¢ from each ticket donated to support conservation partners and programs around the world. The California Trail, a transformational project that more than doubles our size, opens in 2018,
and will further our commitment to animal care, education, and conservation with a focus on this state's remarkable native wildlife. Nestled in the Oakland Hills, in 500-acre Knowland Park, the Zoo is located at 9777 Golf Links Road, off Highway 580. The East Bay Zoological Society (Oakland Zoo) is a nonprofit 501(c)3 organization supported in part by members, contributions, the City of Oakland and the East Bay Regional Parks. For more information, go to: http://www.oaklandzoo.org