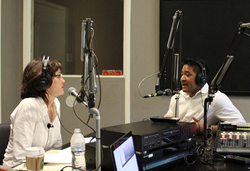 Little Rock, AR (PRWEB) September 21, 2016
Veteran entrepreneur Kerry McCoy, owner and president of Arkansas' FlagandBanner.com aired the first episode of "Up In Your Business with Kerry McCoy" last Friday, September 16, 2016 on KABF community radio station. Each week, this hour long show, will have a guest entrepreneur or business expert join McCoy live on air. The programs format is that of a call-in talk show, offering insights and advice for new business start ups and small business owners. Listeners will be able to call in for free advice from these experts who have walked the walk.
McCoy has been a small business owner since 1975 starting Arkansas' Flag and Banner with just $400, selling American flags door-to-door and now owns a $4 million business in the heart of Downtown Little Rock, Arkansas, with more than a million dollars in online sales alone. She is well versed in all aspects of business from door-to-door sales to mail-order catalog sales, telemarketing and phone sales, service and fulfillment, as well as modern sales channels such as e-commerce and social shopping.
McCoy's first guest was R.J. Martino of iProvonline.com an IT Entrepreneur in Little Rock. Martino founded iProv in 2001, at first offering web design and development and has now grown to the business into a multi-functional IT Managed Service Provider and Digital Marketing Agency.
The debut broadcast focused on the unique challenges of starting and running a small business and the growing pains of small businesses. McCoy and Martino touched on subjects as diverse as hiring issues, education, social media marketing and more.
A promo for the show airing on KABF 88.3 FM reaching the Central Arkansas market says:
""Up your business with Kerry McCoy" will help you discover how to navigate the path to achieve the American dream. Each week she and a guest will answer your questions and offer real world advice on how to become your own boss. Tune in to this passionate, informative, high energy and often wacky perspective on business in the 21st century. Let Kerry McCoy get all up in your business!"
The show is live every Friday at 2 p.m. central time and can be heard on KABF 88.3 FM in the Little Rock area or listeners anywhere in the world can listen live online or on their phones. Simply visit the http://www.upyourbusiness.org website and hit the Live Stream button. Those who might miss the show can still catch it on the Podcast posted on SoundCloud within 24 hours.