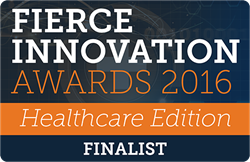 We are honored to be recognized as a finalist in the Fierce Innovation Awards. We strive to improve clinical and financial outcomes for our behavioral health clientele, commented Jacob Levenson, CEO of MAP.
Austin, TX (PRWEB) September 22, 2016
MAP Health Management, LLC announced today it has been selected as a finalist in this year's Fierce Innovation Awards: Healthcare Edition 2016, an awards program from the publisher of FierceHealthcare, FierceHealthIT, and FierceHealthPayer. MAP was recognized as a finalist in the category of Population Health Management/Patient Engagement Solutions.
MAP was selected as a finalist for its innovative, industry leading behavioral health population management platform which empowers treatment providers with consolidated data and technology to collect and demonstrate outcomes data, improve treatment outcomes, identify and manage risk, and reduce overall expenses.
Finalists were selected by a distinguished panel of CIOs from renowned U.S. hospitals and healthcare systems, including Aspirus, Cook Children's Health Care System, and JFK Health System, among others. A complete list of judges can be found at https://www.fierceinnovationawards.com/healthcare/2016#our_judges.
All applications were evaluated based on the following criteria: care efficiency, competitive advantage, financial impact/value, market need, patient experience/satisfaction, quality of care and patient outcomes, and overall fierceness and innovation. Finalists were selected based on calculation of the judges' scores in each area.
"We are honored to be recognized as a finalist in the Fierce Innovation Awards", commented Jacob Levenson, CEO of MAP Health Management. "We strive to improve clinical and financial outcomes for our behavioral health clientele. Our data demonstrates that extending the care continuum for patients through integrated medicine and telehealth greatly increases treatment success rates. As healthcare reform continues to evolve, we will see more providers embracing outcomes data to inform their treatment and optimize value-based reimbursement."
The MAP platform empowers providers in a wide range of specialties to embrace data-driven technologies in an accessible, solutions-based format. MAP's predictive analytics enables the discovery and utilization of actionable insights that will extend the continuum of care and support the delivery of science-backed treatment plans using proactive and sustainable processes.
About FierceMarkets
FierceMarkets, a division of Questex, LLC, is a leader in B2B e-media, providing information and marketing services in the telecommunications, life sciences, healthcare and technology industries through its portfolio of email newsletters, websites, webinars and live events. Every business day, FierceMarkets' wide array of digital publications reaches more than 2 million executives in more than 100 countries.
Current publications include: Telecom: FierceWireless; FierceCable; FierceDeveloper; FierceOnlineVideo; FierceTelecom; FierceWirelessTech; FierceWireless:Europe /TelecomsEMEA, FierceInstaller; Healthcare: FierceEMR; FierceHealthcare; FierceHealthFinance; FierceHealthIT; FierceHealthPayer; FierceHealthPayerAntiFraud; FierceMobileHealthcare; FiercePracticeManagement and Hospital Impact; Life Sciences: FierceAnimalHealth; FierceBiotech; FierceBiotechIT; FierceBiotechResearch; FierceCRO; FierceDiagnostics, FierceDrugDelivery; FierceMedicalDevices; FiercePharma; FiercePharmaAsia; FiercePharmaMarketing; FiercePharmaManufacturing; and FierceVaccines; Technology: FierceTechExec.
About MAP Health Management, LLC
MAP Health Management is the nation's leader in the provision of a comprehensive, accessible technology platform designed to improve treatment outcomes for patients treated for addictions and other behavioral health illnesses. MAP provides telehealth services, extended treatment support programs, and revenue cycle management to nationally recognized addiction treatment providers and behavioral health professionals committed to measuring and demonstrating outcomes data. MAP's dedicated teams of research analysts, clinical directors, recovery advocates, technology professionals, and billing experts strive to improve patient outcomes, empower treatment providers with data, reduce expenses, and drive facility revenue. To learn more about MAP visit, http://www.ThisisMAP.com.