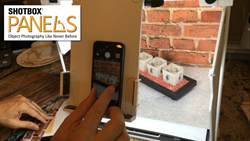 The response from Kickstarter crowdfunders has been amazing.
Clearfield, Utah (PRWEB) September 22, 2016
Yesterday SHOTBOX launched its Kickstarter campaign (https://www.kickstarter.com/projects/695573783/shotbox-20-the-pop-up-photo-light-studio-upgraded) to help raise funds for its recently upgraded photography lightbox, SHOTBOX 2.0 and new PANELs accessory line. And in just 48 hours, the Utah-based company announced it has met its funding goal.
As of earlier this morning, their campaign had 109 backers who have pledged $13,405, with 28 days remaining in the Kickstarter campaign. Everyone at SHOTBOX is ecstatic to have reached their goal so quickly and can't wait to get this project finished and out into consumers' hands.
Aaron Johnson, CEO of SHOTBOX, said, "We were excited to get back onto Kickstarter with some updates and extensions of SHOTBOX, and even more excited to have reached our funding goal so quickly. We're so grateful for the interest and belief in our product, and just want to tell everyone thank you for their support."
With the upgraded SHOTBOX 2.0, users can enjoy the SHOTBOX with PANELs, a creative extension that lets photographers select background and floor sheets for their photos. A user simply has to insert a PANEL into the base and back of the portable light studio to bring their picture's scene to life. The prints will be custom-sized, and base prints are magnetic to help hold them in place during a photo shoot.
"Kickstarter is a natural fit for us to crowdfund our new line of accessory in the PANELs. SHOTBOX was initially funded on Kickstarter and we are excited to see that we are receiving the same kind of love and support like we did the first time around. Our goal is to continue to improve on the product, which is really only possible through the help of people, so a huge thank you to all of our supporters," said Michael Hohl, COO of SHOTBOX.
For more information on the SHOTBOX 2.0 or to give your support, visit its Kickstarter page. Those who choose to pledge to the project will be given the chance to vote on and choose the eight PANEL images that will be included in SHOTBOX's Essential Kit at the end of the Kickstarter campaign.
About SHOTBOX
SHOTBOX is a Utah-based company that makes a pop-up portable light studio, that works with DSLR cameras and smartphones, for online sellers, bloggers, crafters, scrapbookers and genealogists.