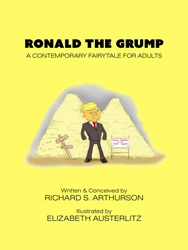 This clever, wonderfully illustrated parable of our current presidential election will excite and delight millions when it is released as an ebook through Amazon/Kindle on September 22, 2016. It will be free from September 23-27.
Ashland, Oregon (PRWEB) September 22, 2016
RONALD THE GRUMP
A Contemporary Fairy Tale For Adults
Written and Conceived by Richard S. Arthurson
Illustrated by Elizabeth Austerlitz
The #1 New York Times Best Seller "Go The F*ck To Sleep" was an illustrated picture book for adults. "Ronald the Grump" is similar in style, and will appeal to everyone who opposes Donald Trump. The author is in his seventies while the illustrator is a millennial college student. This clever, wonderfully illustrated parable of our current presidential election will excite and delight millions when it is released as an ebook through Amazon/Kindle on September 22, 2016. It will be free from September 23-27, 2016.
THE STORY
Once upon a time on the planet Thera there was a magical land of plenty called Angelica. Everyone wanted to live in Angelica because of all of lands on Thera it was the most beautiful, and the people who lived there had the most freedom, the most opportunities, and more seeds to plant their crops than in any other land.
Seeds were the most important thing on Thera because without them plants and crops could not be grown and people would have nothing to eat.
As time went on the abundant land of Angelica started to change.
Instead of sharing seeds and using only as many as they needed, some Angelicans became greedy and began to amass and hoard as many seeds as they could, leaving fewer and fewer seeds for everyone else. Those greedy Angelicans started to undergo a basic change and evolved from being warm-hearted Angelicans to miserly Ogres.
The Ogres no longer thought or acted like everyone else. Instead of doing things for the common good and making life better for the most Angelicans, they only cared about making life the best they could for themselves. Angelica became plagued with dissention and discord. People who had worked together and helped each other for centuries turned into factions and groups, and constantly argued with each other and sometimes even fought with each other.
Ronald the Grump a mutant orange Ogre had, what was to him, an amazing idea that would make him the most important resident of Angelica, even seed-wealthier than he already was, and would divert the ordinary Angelicans' anger and discontent.
His idea was to promise everyone who lived in Angelica that if they let him rule Angelica he would change the way things were and make life better for everyone.
He said that the way for Angelicans to have a better life and enough seeds to live a good life was for each Angelican to do only what was best for them. And that if every Angelican only cared about themselves and were suspicious of other Angelicans--especially those who thought, looked or acted differently than they did--that is how each Angelican could prosper. He said that Angelicans' working together for the good of all was not the way for everyone to have a better life.
Ronald the Grump told everyone that if he were the ruler of Angelica he would ensure that those who followed him and prevailed against their neighbors would have more seeds than they ever needed.
And then Helen of Linton, an Angelican female who had spent her life helping other Angelicans and serving them in many ways over many years, rose up to challenge Ronald the Grump.
She told everyone that there was a better way to restore Angelica to its former happiness and abundance for all, and it was by working together--doing the exact opposite of what Ronald the Grump said would help the Angelicans.
Helen of Linton and Ronald the Grump engaged in a fierce battle to become Angelica's leader. They each wanted to have Angelica go in the direction that was their vision.
The book has two endings: what happened to Angelica when Ronald the Grump prevailed and what happened to Angelica when Helen of Linton prevailed.
THE ILLUSTRATIONS
Beautifully hand-drawn and computer-colored illustrations complement and reinforce the story on every page, creating a picture-book fairy tale that anti-Trump adults will cherish and love to read and look at.
ABOUT THE AUTHOR AND ILLUSTRATOR
Richard S. Arthurson (author) has been a senior executive in the entertainment industry, a newspaper/magazine columnist and writer/author for many years. He co-founded a major college marketing curriculum, he is a Grammy-nominated record producer and has lectured at a number of colleges and universities. In his seventies, he has been a life-long liberal, advocate for human rights and board member of numerous non-profit organizations. He believes that a Trump presidency would be disastrous for America and the World. He stated, "It is especially gratifying that a senior and a millennial have come together to create this book. It illustrates how wide-spread the opposition to Trump is." Arthurson lives in Ashland, Oregon.
Elizabeth Austerlitz (illustrator) is an Art and Languages student who has been drawing in animation for three years. She juggles three jobs while being a full-time student in order to pay for college. While her family has always been political, Austerlitz wasn't completely passionate about politics until she graduated high school and was able to travel outside the country to China and the UK. That is when she realized that even with all of its problems, America was the country she loves, and she decided to join the passionate fight to improve her homeland any way she can. She is so anti-Trump that she stated, "I'm a millennial that misses not having to care that much about the political process. I'm pissed that this election is making me have to care. I can't afford not to care." Austerlitz lives in Eugene, Oregon.
PUBLICATION INFORMATION
TITLE: RONALD THE GRUMP: A Contemporary Fairy Tale For Adults
AUTHOR: RICHARD S. ARTHURSON
ILLSUTRATOR: ELIZABETH AUSTERLITZ
PAGE COUNT: 29
RELEASE DATE: The ebook will be offered for FREE on Amazon from Sept 23-27 and will cost $4.99 after that