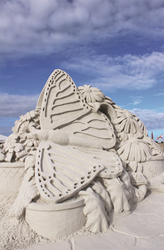 This year we celebrate our 30th Year," said Fort Myers Beach Chamber President Bud Nocera. "Each year, this event has gotten better and this year's event will be the best yet."
FORT MYERS BEACH, FLORIDA (PRWEB) September 23, 2016
Mark your calendars for a Sand Celebration! The 30th Annual American Sand Sculpting Championship is returning to Fort Myers Beach November 18 through 27, 2016 with more sculptures and new things to do and see as part of the 30 year Anniversary of the event.
Master Sand Sculptors will return to Fort Myers Beach forming the largest sand sculpting event in the state plying their craft and showcasing their artistry in what USA Today and CNN Travel have named a must see and one of the 10 best sand sculpting competitions in the world.
"This year we celebrate our 30th Year," said Fort Myers Beach Chamber President Bud Nocera. "Each year, this event has gotten better and this year's event will be the best yet."
Tourists and residents alike will have the unique opportunity to see a collection of some of the world's very best sand sculptors craft amazing sand sculptures. Featuring sculptors from around the world, the singles will compete the first week, followed by the doubles the second week.
This year, the Sculptors represent 6 different countries and over 10 states. Collectively they hold over 400 competition medals (40 from this event) and many of them are World Champions. There will be sixteen Solo Master Sculptors, ten Doubles Master Sculptors (five teams)
2016 SOLO MASTER SAND SCULPTORS
Melineige Beauregard – Canada
Joris Kivits – Netherlands/Portugal
Paul Hoggard – England
Remy Hoggard – Bulgaria
Bruce Phillips – California
Greg Grady Jr. – New Hampshire
Delyane Corbett – Canada
Craig Mutch – Canada
Walter McDonald – Texas
Brian Turnbough – Illinois
Abe Waterman – Canada
Steve Topazio – Rhode Island
Todd Pangborn – New York
Maxim Gazendam - Netherlands
Wilfred Stijger – Netherlands
Bill Dow – Montana
2016 DOUBLES MASTER SAND SCULPTORS
Melineige Beauregard and Joris Kivits – Canada and Portugal
Paul Hoggard and Remy Hoggard – England and Bulgaria
Delyane Corbett and Craig Mutch - Canada
Bruce Phillips and Maxim Gazendam – California and Netherlands
Walter McDonald and Bill Dow – Texas and Montana
Guests are welcome to attend daily from 10 a.m – 5 p.m. November 18th through the 27th. There will be many interactive activities for guests to partake in including:

More than 40 Sand Sculptures
Quick Sand Speed Sand Sculpting©
Photo Opportunity Sculptures
Kids Zone
Sand Sculpting Demonstrations and Lessons
Amateur Contest
State Championships
Sand Vendor Village with more than 50 vendors
As part of the 30th Anniversary celebration and for the first time, guests will be able to purchase a VIP experience on the sand and enjoy an air conditioned area and beer garden with private restrooms. The Seminole Casino Hotel Paradise Pavilion will offer an open bar, all you can eat menu and TV's showcasing all of the days sporting and holiday events. The limited number of tickets per day will ensure the Pavilion sells out. Advance Tickets to the VIP Pavilion will be day specific and cost $40/day and available online for purchase at http://www.pinchersusa.com/shop.php.
Admission is just $7 with children 4 and under are free. For more information, please visit http://www.FMBSandSculpting.com or the event's Facebook page: https://www.facebook.com/SandSculptingFestival.
This year the Fort Myers Beach Chamber of Commerce will be coordinating all vendor involvement and volunteers. For details on participating in the event as a vendor, contact Ted Clifton at 239-848-6568 or cliftonted(at)hotmail.com. To be a volunteer during the event, please contact Rhonda Murray 239-454-7500 or rhonda(at)fmbchamber.com. Businesses and organizations can also sponsor the event. For details email sponsorinfo(at)FMBsandsculpting.com.
LOCATION & TRANSPORTATION
The 30th Annual American Sand Sculpting Competition will once again be at the Wyndham Garden Hotel located at 6890 Estero Boulevard on Fort Myers Beach. Attendees are encouraged to arrive from the south in order to avoid traffic congestion. Event directors have coordinated a revolving bus system to transport attendees from the Lover's Key parking area to the site.
PLEASE NOTE: Interviews with master sculptors available upon request. Images of previous sculptures and events are also available upon request.