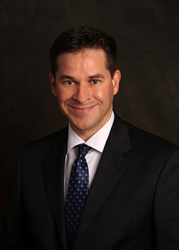 His strong background and experience in healthcare finance positively impact both our facility and the community we serve.
Tampa, FL (PRWEB) September 21, 2016
Chris Sauder has joined Florida Hospital Carrollwood (FHCW) as its Vice President and Chief Financial Officer, bringing with him a strong background of hospital finance, most recently having served as Chief Financial Officer for Frank R. Howard Memorial Hospital in Willits, California.
Sauder earned his MBA from the University of Colorado at Denver, and is both a Certified Public Accountant (CPA) and Certified Healthcare Financial Professional (CHFP). His varied and strong financial background includes serving as a Defense Contract Auditor, Reimbursement Analyst, and Controller, while advancing his professional career through West Coast-based healthcare organization, Adventist Health.
Shane Cox, who served as Chief Financial Officer for FHCW beginning in 2013, was promoted to Vice President of Revenue Cycle for Shawnee Mission Health, an Adventist Health System facility based in Kansas City, Missouri., earlier this year.
"We are proud to have Chris join our executive team here at Florida Hospital Carrollwood," said Joe Johnson, President and CEO. "His strong background and experience in healthcare finance positively impact both our facility and the community we serve."
About Florida Hospital Carrollwood
Conveniently located for Tampa Bay Area residents, Florida Hospital Carrollwood is a 120-bed acute care facility that specializes in providing comprehensive medical services in an environment of Christian compassion and healing. Awarded by the Florida Hospital Association for Leadership in Quality and Patient Safety in 2014 and 2015, the hospital is a member of the West Florida Region of Florida Hospital and Adventist Health System. Florida Hospital Carrollwood offers recognized spine, orthopedic and bariatric surgical services, as well as Emergency, Cardiology, and Wound Healing and Hyperbaric Medicine services with highly skilled clinical staff and physicians dedicated to providing the highest quality of care with an inspired approach. For more information, please visit fhcarrollwood.org