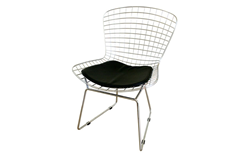 It is just as important to look at costs for our customers, as it is to look at the most stylish trends on the market. EZmod always wants to be the most affordable with the best quality furniture for customers
Baldwin Park, CA (PRWEB) September 22, 2016
With a new season comes new lower prices on all of EZmod Furniture items. These new price reductions include the popular items like the Bertoia Style Chair and hot seller items such as the Tolic Chair just to name a few. On top of the price reductions, EZmod is also adding sets of two and four on all dining chairs on the EZ website and all marketplaces.
EZmod Furniture is known for the most unbeatable prices when it comes to furniture. That is why the company researches competitors on many marketplace outlets across the World Wide Web. "It is just as important to look at costs for our customers, as it is to look at the most stylish trends on the market," explained Gloria Ortega, Operations Manager. "EZmod always wants to be the most affordable with the best quality furniture for customers." The new price reductions range anywhere from $10 to $100 off depending on the product. And as always, EZmod offers customers free shipping anywhere in the continental United States for any order.
EZ has also decided to make ordering dining chairs even more affordable. EZmod has decided to pair up and sell all dining chairs in sets of two and four. By combining dining chair sets, customers can save even more when ordering through ezmodfurniture.com. The discount is already calculated into the price, however when comparing to a single dining chair, customers will be able to see the difference in savings.
Shop at EZmod Furniture and create a fresh new look. Specializing in mid-century modern and contemporary furniture design, it is EZ to include a striking finish to any room. EZmod Furniture is an online modern furniture retailer located in Baldwin Park, California. For further assistance, please call Angelique Valdez, Sales & Marketing Associate at 866-630-6161 ext. 113 or email at sales(at)ezmodfurniture(dot)com.