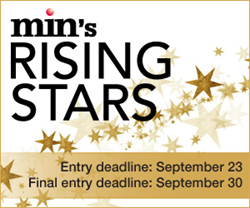 New York, NY (PRWEB) September 22, 2016
Every year, min recognizes top up-and-coming media professionals and introduces them to the magazine-media community through its popular Rising Stars Awards.
The program seeks to acknowledge exceptional young media professionals from all walks of life in the media industry, including brand strategists, writers, marketers, sales execs, designers, and more.
The prestigious honor has helped dozens of young professionals accelerate their careers in magazine-media. Past winners hail from companies including The Atlantic, Bloomberg Media, Entertainment Weekly, Forbes, TEN: The Enthusiast Network, Time Inc. and others.
By way of introduction to the magazine-media community, winners of min's Rising Stars Awards will be acknowledged at a special awards breakfast in New York City on December 8, 2016 in New York City. Additionally, min's editorial team will write a feature article on each of the young professionals who are honored through the program.
The entry deadline for this year's Rising Stars Awards is Friday, September 23, 2016 at 11:59pm ET. For questions on the program or entry process, please contact Zoe Silverman at zsilverman(at)accessintel(dot)com or 301-354-1662.
About min:
min is the industry's trusted source on the consumer and b2b magazine business, reaching thousands of media executives through print, online and in-person events. For more than 60 years, min has been serving the magazine and media community with unparalleled coverage of this ever-changing industry. For more information, visit http://www.minonline.com.